If you're looking for a paradise that combines natural beauty with cultural richness, Bali should definitely be on your list. With our Bali itinerary 10 days, you'll be able to explore the best that this Indonesian island has to offer. From breathtaking landscapes to stunning beaches, from temples to traditional dance performances, from outdoor adventures to relaxing spa treatments, you'll find everything you need for the perfect vacation.
Planning Your Bali Adventure
Planning a Bali itinerary 10 days may seem daunting, but with our tips and advice, you'll be able to create a trip that is tailored to your needs and preferences.
Choosing the Right Time to Visit
The best time to visit Bali is during the dry season, which runs from April to October. This period offers sunny days and warm temperatures, making it perfect for outdoor activities. However, Bali is a year-round destination, so if you prefer fewer crowds, you may want to consider visiting during the low season from November to March.
Accommodations
Bali offers a plethora of accommodation options, from budget-friendly hostels to luxurious resorts. It's best to choose accommodations based on the location of your activities. For example, if you plan to spend most of your time in Ubud, it's best to look for accommodations in or around that area. Booking in advance is also recommended, especially during peak season.
Transportation Options
Bali has several transportation options to choose from, including taxis, private car with driver and scooters. It's important to consider the safety and traffic conditions when deciding on transportation. Hiring a car with private driver is recommended as they are familiar with the roads and traffic conditions. Scooter rentals are also a popular choice and offer greater flexibility, but it's important to exercise caution and wear the necessary safety gear.
Additional Tips for Planning Your Bali itinerary 10 days
Research local customs and etiquette to avoid any cultural misunderstandings.
Bring appropriate attire for various activities, such as temple visits or outdoor adventures.
Try local cuisine and street food for an authentic experience.
Stay hydrated and protect yourself from the sun.
Always carry a form of identification and emergency contact information.
Day 1-2: Exploring Ubud
The first two days of your Bali itinerary 10 days will be spent exploring the charming town of Ubud, located in the heart of Bali. Ubud is known for its beautiful scenery, rice terraces, art markets, and temples.
Day 1: Start your day at the famous Ubud Monkey Forest, where you can get up close with the playful primates. Next, head to the Tegalalang Rice Terraces for a scenic walk through the lush greenery and picturesque landscapes. End your day at the Ubud Art Market, where you can find unique souvenirs and handmade crafts.
Day 2: Begin your second day in Ubud by visiting the Ubud Palace and Saraswati Temple, two of Bali's most iconic cultural landmarks. In the afternoon, take a trip to the Tirta Empul Temple and take part in a traditional Balinese purification ceremony. End the day by experiencing the healing powers of a Balinese massage at one of Ubud's many spas.
With its serene ambiance and cultural significance, Ubud is the perfect destination to begin your Bali adventure.
Day 3-4: Discovering the Beaches of Bali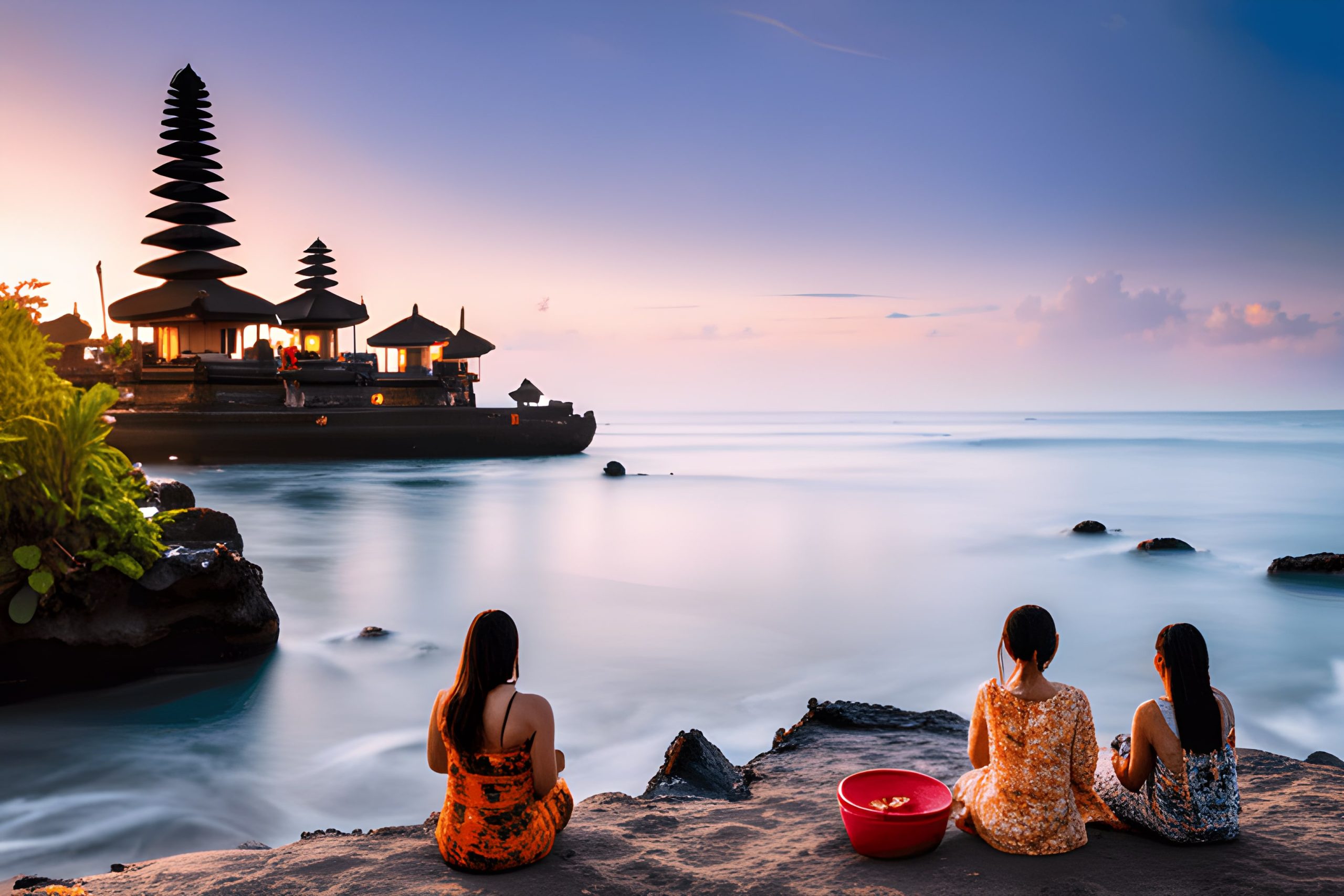 After the cultural immersion in Ubud, it's time to head to Bali's stunning beaches. With a coastline spanning over 500 kilometers, Bali offers a plethora of beach destinations for every type of traveler.
Day 3 can be spent exploring the vibrant Seminyak, known for its fashionable beach clubs and trendy restaurants. While Day 4 can be dedicated to the iconic Kuta Beach, famous for its surfing spots and bustling nightlife scene.
Beach Destination
Activities
Seminyak

Relax on the beach
Indulge in spa treatments
Experience sunset at Potato Head Beach Club

Kuta

Surfing lessons
Nightlife at Poppies Lane
Visit the Waterbom Bali waterpark

Nusa Dua

Snorkeling and diving
Golfing at Bali National Golf Club
Visit Bali Collection Shopping Center for souvenirs
A visit to Bali's beaches can also include beach hopping, where travelers can explore multiple beaches in a single day, such as Jimbaran, Pandawa, and Balangan Beach.
Tip: Don't forget to pack sunscreen, comfortable beachwear, and swimwear for the ultimate beach experience in Bali.
In the next section, we'll dive into days 5 and 6, where you'll uncover the rich cultural experiences that Bali has to offer.
Day 5-6: Immersing in Balinese Culture
As you approach the middle of your Bali itinerary 10 days, it's time to immerse yourself in the vibrant culture of the island. Bali is known for its rich cultural heritage, and you can experience it firsthand during days five and six of your adventure.

Temple Visits
One of the best ways to experience Balinese culture is by visiting its enchanting temples. Two of the most popular temples to visit are Uluwatu and Tanah Lot. Uluwatu is perched on the edge of a cliff, offering stunning views of the Indian Ocean and the sunset. Tanah Lot is situated on a rock in the middle of the sea, giving the impression that it's floating on water. These temples are not just places of worship but also provide an insight into the island's history, architecture, and spirituality.
Dance Performances
Bali is famous for its traditional dance performances that showcase its rich cultural heritage. One of the best places to witness a dance performance is at the Ubud Palace. The palace regularly hosts traditional Balinese dance shows that feature colorful costumes and mesmerizing movements. The Kecak Fire Dance, Barong Dance, and Legong Dance are some of the popular performances you can witness.
Cooking Classes
Balinese cuisine is a fusion of different cultural influences, making it a unique culinary experience. Taking a Balinese cooking class is a great way to learn about local ingredients, traditional cooking techniques, and cultural aspects related to food. Bali Asli and Casa Luna Cooking School are two popular choices that offer hands-on Balinese cooking classes.
Pro Tip: Don't forget to wear a sarong and sash when visiting temples as it's a sign of respect.

Day 7-8: Trekking in Bali's Natural Beauty
Days seven and eight of your Bali itinerary 10 days will take you on an exciting adventure through the island's natural wonders. Bali is an ideal destination for trekking enthusiasts, with its diverse terrain and stunning landscapes.
Mount Batur Sunrise Hike
One of the most popular trekking destinations in Bali is Mount Batur, an active volcano that offers breathtaking panoramic views. Start your hike early in the morning to witness the stunning sunrise from the top. The hike takes around two hours and is suitable for experienced hikers as well as beginners.
Tegalalang Rice Terraces
Located in Ubud, the Tegalalang Rice Terraces are a stunning example of Bali's terraced rice fields. The trek through the rice fields is a unique experience that offers visitors a glimpse into traditional Balinese farming practices. You can also stop by one of the many cafes and restaurants in the area for a refreshing drink or a bite to eat.
Hidden Waterfalls of Bali
If you're looking for a more secluded trekking experience, then exploring Bali's hidden waterfalls is a great option. Located in the northern part of Bali, Sekumpul Waterfall is a popular destination for adventurous travelers. The trek to the waterfall takes around 45 minutes and offers stunning views of the surrounding jungle. If you're feeling adventurous, you can even take a dip in the crystal-clear pool at the base of the waterfall.
Overall, trekking in Bali is an unforgettable experience that allows visitors to immerse themselves in the island's natural beauty. Whether you're an experienced hiker or a beginner, Bali has something for everyone. Just make sure to wear comfortable trekking shoes, bring plenty of water, and follow all safety guidelines.
Day 9-10: Relaxation in Bali's Paradise
After a week of exploring Bali's natural beauty and rich culture, it's time to unwind and indulge in some well-deserved relaxation. Bali is renowned for its luxurious spas, peaceful yoga retreats, and stunning natural scenery, making it the perfect destination to recharge and rejuvenate.
| Activity | Description |
| --- | --- |
| Balinese Spa Treatments | Indulge in a variety of traditional Balinese spa treatments, including massages, body scrubs, and facials. These treatments use natural ingredients and techniques to promote relaxation and healing. |
| Tirta Empul Temple | A holy spring water temple, Tirta Empul is a serene and spiritual destination where visitors can participate in a purification ceremony and bathe in sacred waters. |
| Beachside Relaxation | End your trip with a few days of beachside relaxation. Bali's beaches offer plenty of opportunities for soaking up the sun, swimming, and sipping cocktails while watching the sunset. |
Alternatively, if you're looking for a more active way to unwind, Bali also offers plenty of opportunities for outdoor recreation, including hiking, cycling, and surfing.
Tip: For a truly peaceful and secluded experience, consider staying in a luxurious villa in Ubud or Uluwatu. These areas offer stunning views and a tranquil atmosphere, perfect for a relaxing getaway.
How Much Does It Cost For Bali Itinerary 10 Days
Planning a Bali itinerary 10 days? I've got you covered with a breakdown of the costs involved. Bali, known for its stunning beaches, vibrant culture, and lush landscapes, offers an unforgettable experience without breaking the bank. When it comes to expenses, you'll need to consider accommodation, transportation, food, and activities.
Accommodation options in Bali cater to various budgets, ranging from budget-friendly guesthouses to luxurious resorts. On average, you can expect to spend around $30 to $100 per night, depending on your preferences. To save costs, consider booking in advance or exploring homestay options, which provide an authentic local experience at a fraction of the price.
Getting around Bali is relatively affordable and convenient. Renting a scooter is a popular choice, costing around $5 to $50 per day, allowing you the freedom to explore at your own pace. Alternatively, taxis and Bali car hire with driver services are widely available and offer reasonable rates. Public transportation is also an option, with buses and shuttle services connecting major tourist areas.
Now, let's talk about food. Bali is a food lover's paradise, offering a wide range of culinary delights. Local warungs (small eateries) provide delicious and budget-friendly options, with meals costing around $2 to $5. If you prefer a more upscale dining experience, you can find plenty of international restaurants and trendy cafes at higher price points.
As for activities, Bali offers something for everyone. Whether you're interested in exploring ancient temples, rejuvenating with spa treatments, or diving into the crystal-clear waters for snorkeling or surfing, there are endless options to choose from. Temple visits usually require an entrance fee of around $3 to $5, while adventure activities can range from $20 to $100, depending on the type and duration.
Keep in mind that these costs are estimates and can vary based on your preferences and travel style. Additionally, it's always wise to allocate some extra funds for unforeseen expenses and souvenirs. By planning your Bali itinerary 10 days with these cost breakdowns in mind, you can make the most of your 10-day adventure while staying within your budget.
Remember, experiencing Bali doesn't have to be expensive. With careful planning and a bit of flexibility, you can enjoy an unforgettable journey through this enchanting island without breaking the bank. I suggest that for 10 days in Bali that you bring about $650-$2.600 USD for low cost trip (exclude flight tickets). So, start planning your Bali itinerary 10 days cost breakdown and get ready for an incredible adventure in paradise!
Tips for a Memorable Bali Itinerary 10 Days
Planning Bali itinerary 10 days can be exciting, but it's essential to prepare well to make the most of your trip. Here are a few tips to help you create unforgettable memories during your Bali adventure:
1. Research your destinations and activities
Bali has so much to offer, from stunning beaches to cultural experiences. Before your trip, research your desired destinations and activities to help you plan your itinerary. This will save you time and ensure you make the most of your trip.
2. Book accommodations and transportation in advance
Ensure you have your accommodations and transportation arranged in advance. Bali has a wide range of options to suit every budget, from budget-friendly hostels to luxurious resorts. Pre-booking will give you peace of mind and save you money.
3. Be mindful of Balinese culture and customs
Bali has a unique culture, and it's essential to respect it during your visit. Be aware of the customs, dress appropriately when visiting temples or attending cultural events, and be mindful of your behavior in public.
4. Try the local cuisine
Bali has a rich culinary scene, and you won't want to miss out on trying the delicious local cuisine. From traditional warungs to upscale restaurants, Bali has something for everyone. Be adventurous and try new dishes to create an unforgettable culinary experience.
5. Stay hydrated and protect yourself from the sun
Bali is a tropical destination with high temperatures and humidity. Stay hydrated by drinking plenty of water and protect yourself from the sun with sunscreen, a hat, and sunglasses. This will ensure you feel energized and ready to explore all that Bali has to offer.
6. Be mindful of your safety
Bali is a safe destination, but it's essential to be mindful of your safety. Be aware of your surroundings, keep your possessions secure, and avoid walking alone late at night. If you're unsure about anything, ask your hotel or tour operator for advice.
By following these tips, you'll be able to make the most of your 10-day Bali itinerary and create unforgettable experiences. Have a wonderful trip!
Frequently Asked Questions about Bali Itinerary 10 Days
Planning Bali itinerary 10 days can be overwhelming, and it's common to have questions or concerns. Here are some of the frequently asked questions about a Bali itinerary that can help you plan your trip.
When is the best time to visit Bali?
The best time to visit Bali is during the dry season from April to September. However, this is also the peak season, and prices can be higher. The wet season from October to March can still be a great time to visit, as the rainfall is usually in short bursts and the weather is still warm and enjoyable.
How do I get around Bali?
The best way to get around Bali is by renting a car or scooter. You can also hire a car with driver or take public transportation such as bemos or taxis. However, traffic can be congested, and road conditions can be challenging in some areas. Always wear a helmet when riding a scooter and ensure that you have an international driving license.
What should I wear in Bali?
Bali is a predominantly Hindu island, and it's important to show respect for local customs and dress modestly when visiting temples or other religious sites. Lightweight and breathable clothing is ideal for Bali's warm and humid climate. Don't forget to pack a swimsuit and comfortable shoes for exploring.
What are some must-try Balinese foods?
Balinese cuisine is diverse and flavorful, with influences from Indonesian, Indian, and Chinese cuisines. Some must-try dishes include Nasi Goreng (Indonesian fried rice), Satay (grilled meat skewers), and Lawar (a mix of chopped vegetables and minced meat). Be adventurous and try some of the street food, but make sure it's cooked fresh and thoroughly.
What are some safety precautions to take when in Bali?
Bali is generally a safe destination, but it's important to take some precautions to ensure a hassle-free vacation. Always carry a copy of your passport and visa with you and keep your valuables in a safe place. Be careful when exchanging money or using ATMs, and don't leave your belongings unattended on the beach. Be aware of your surroundings and trust your instincts.
Do I need travel insurance for my Bali trip?
While travel insurance is not a requirement, it's highly recommended when traveling to Bali. Medical emergencies can be expensive, and travel insurance can provide coverage for unexpected situations such as cancellations or lost luggage. Make sure to read the policy carefully and understand the coverage before purchasing it.
Those frequently asked questions probably will give you more information for planning a memorable and safe trip to Bali. Remember to do your research, be respectful of local customs, and enjoy all that this beautiful island has to offer.