When traveling to Bali for a holiday, it is never a case of what are you going to find to do on your vacation, but rather how many weeks holiday can you take to enjoy all that Bali has to offer. Many people think of beaches and white sand when thinking of Bali and associate is a being mainly a beach holiday. Although there are many resorts along the beachfront to relax at, this is only a small part of all the Bali tour and activities available. There are very few hotels and resorts in Bali that will not have either in house tours of Bali or be able to arrange some of Bali tour packages via an independent tour company for you to enjoy.
With so many activities available it is difficult to pick the best to recommend, but based on the popularity of the following these seem to be the most exciting things to do when considering one of the many Bali tour packages available.
Is Bali affordable to visit
Bali can be an affordable destination to visit, especially compared to some other popular tourist destinations. The cost of living in Bali is generally lower than in many Western countries, which means that you can find relatively affordable accommodation, food, and transportation on the island.
However, the cost of your trip to Bali will depend on a number of factors, such as the time of year you are traveling, the type of activities and accommodations you choose, and your personal travel style. Here are a few things to consider when planning your budget for a trip to Bali:
Flights: The cost of flights to Bali can vary greatly depending on your departure city, the time of year you are traveling, and how far in advance you book your tickets. If you are able to book your flights well in advance and are flexible with your travel dates, you may be able to find affordable flights to Bali.
Accommodation: Bali has a range of accommodation options to suit different budgets, from luxury villas and resorts to budget hotels and guesthouses. Consider your personal preferences and budget when choosing your accommodations.
Activities: Bali has a range of activities to suit different interests and budgets, from surfing and scuba diving to temple visits and cultural performances. Consider what activities you are interested in and choose options that fit within your budget.
Food and transportation: The cost of food and transportation in Bali is generally lower than in many Western countries. However, you should still budget for meals and transportation costs, as they can add up over the course of your trip.
But, with careful planning and consideration of your budget, it is possible to visit Bali on a budget.
How much do Bali tour packages cost?
Just like I stated above, the cost of a tour in Bali can vary greatly depending on a number of factors, the tour's length, activities, accommodations and the season. Some tours may be as inexpensive as a few hundred dollars, while others can cost several thousand dollars.
To get a sense of the cost of a tour in Bali, it is best to research different tour operators and compare their prices and inclusions. Some tour operators may offer packages that include flights, accommodations, meals, and activities, while others may offer more customizable tours where you can choose the specific activities and accommodations you would like to include.
It is also important to consider the cost of living in Bali, as this can affect the overall cost of your trip. Bali is generally a relatively affordable destination, but prices can vary depending on the location and type of accommodation you choose. For example, staying in a luxury villa or resort will likely be more expensive than staying in a budget hotel or guesthouse.
Apart from the cost of airfare, a budget of approximately $100 per day should be more than adequate for your Bali tour.
This amount will allow you to stay in a mid-range hotel, dine out for every meal, and partake in some of the island's most enjoyable activities.
As a result, a sum of $1500 per individual (in addition to airfare) would be sufficient for a 14-day vacation in Bali.
Budget Breakdown
Accommodation: Budget-friendly hotels are available for as low as $10 per night, whereas a room in a mid-range hotel or resort will cost USD 30 – USD 50 per night. Luxury hotels can cost upwards of USD 300.
Food: Local cuisine is quite reasonably priced, with meals costing as little as USD 2-USD 3. Western cuisine is more expensive, with main courses beginning at around USD 10.
Transport: For example, a taxi from the airport to Ubud will cost approximately USD 40. A day of sightseeing, including taxi and Bali private driver services, may cost more than USD 100.
Activities: Depending on your chosen activity, prices can range from USD 10 to USD 50 per activity. Most days, you will be on the lower end of the pricing spectrum.
As the breakdown reveals, a Bali excursion does not have to be excessively expensive – you can surely visit on a modest budget if you are mindful of your expenditures!
Which is the best time to visit Bali
Bali is a tropical destination and has a warm, humid climate year-round. The best time to visit Bali depends on your personal preferences and the type of experience you are looking for. Here are a few factors to consider when deciding when to visit Bali:
Dry season and rainy season: Bali has two main seasons: the dry season and the rainy season. The dry season, which runs from April to October, is generally considered the best time to visit Bali. During this time, the weather is dry and sunny, with temperatures ranging from the mid-70s to the low 90s Fahrenheit. The rainy season, which runs from November to March, is characterized by higher humidity and more frequent rain showers. However, the rainy season is also a great time to visit Bali, as the rain tends to come in short bursts and the rest of the time is sunny and warm.
Crowds and prices: Bali is a popular tourist destination and can get quite crowded, especially during peak season. The busiest months are July and August, when many Europeans and Australians visit the island. If you want to avoid crowds and potentially lower prices, consider visiting during the shoulder seasons of April, May, October, or November.
Festivals and events: Bali is home to a number of festivals and events throughout the year, such as the Bali Arts Festival in June and July, and the Galungan and Kuningan celebrations in late September and early October. If you are interested in experiencing local culture and traditions, consider planning your trip around one of these events.
Ultimately, the best time to visit Bali depends on your personal preferences and travel style. Consider your budget, the type of weather and experience you are looking for, and any specific events or activities you are interested in.
Recommended Water Activities In Bali Tour Packages
Bali Marine Walk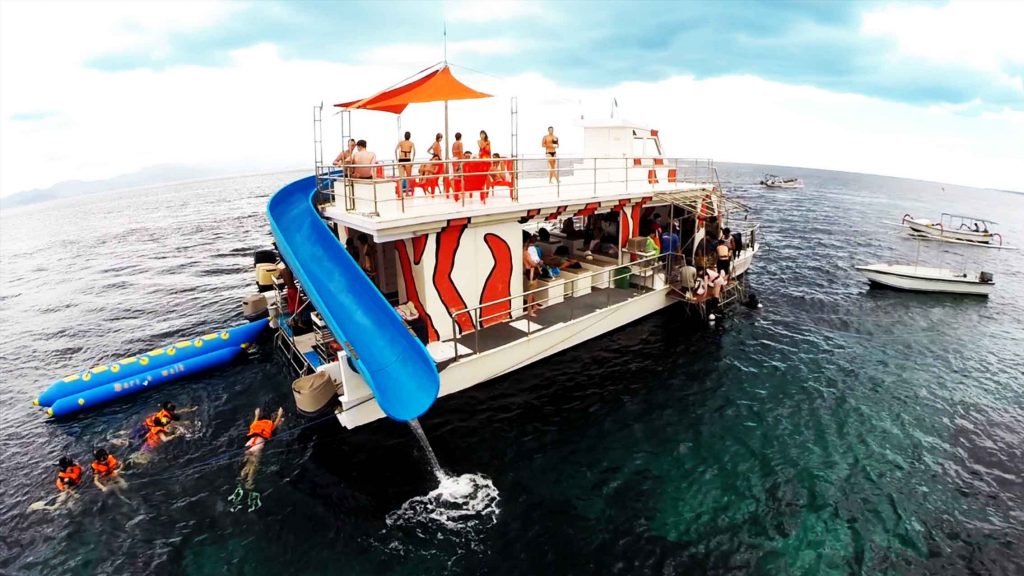 Have you always wanted to experience the ocean floor, the garden under water that is teaming with marine life full of bright colors and stunning fish, but were afraid to dive or are not a particularly great swimmer? Then this is a must for you to try out when you visit Bali. This is a revolutionary diving system that you can experience even if you can't swim; all you need to be able to do is walk. The concept behind it is very simple; an open ended helmet allows the wearer to walk on the sea bed by just putting it over their head. There is an inbuilt defogging mechanism that prevents the front "window" from becoming steamed up. There is a hose which is connected to the scuba tanks allowing free movement while playing with the fish and feeding them from your hand. This is truly a must do activity when visiting Bali. Marine walk have their own boat that will take you to Lembongan Island where you can enjoy a day exploring the depths of the ocean.
White Water Rafting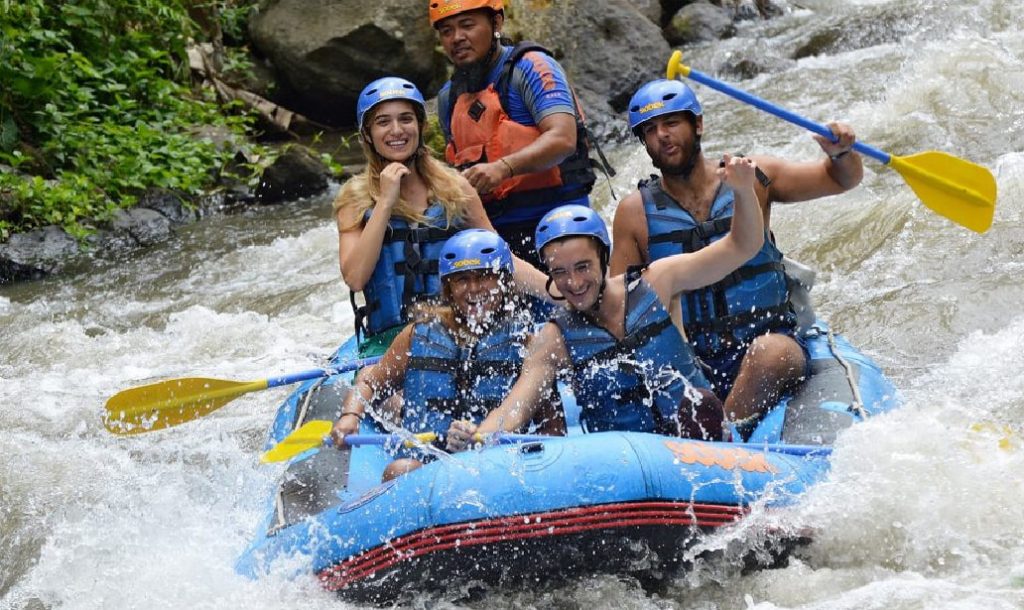 Bali Adventure Rafting offers a five star service that is renowned as the safest family rafting company in Bali. There are many Bali tour packages that included and offer this activity in their packages. Age is not a factor with this company, kids from as young as five have been rafting down the Ayung River. The experience is exhilarating and the views are breathtaking. The tour is on a stretch of river 8 kilometers long and includes 27 class II and class III rapids wandering through unspoiled rain forests, towering gorges and sculptured rice fields. All the guides are professionally trained and have tons of experience to pilot the rafts through some dramatic drops, waterfalls and rivers making your white water experience safe but awesome.

The whole trip will last approximately one and a half hours, depending on how fast the river is flowing. At the end of the adventure there are hot showers and changing rooms for you to refresh in, followed by a hot gourmet buffet at a private restaurant with views of majestic mountains and rice fields. The unique facilities and having the longest course on the island has attracted Hollywood celebrities like Claudia Schiffer, Jean-Claude Van Damme and David Copperfield. Access is fairly easy, only an hour's drive from the majority of the resorts in the south of Bali.
Waterbom Park
Waterbom Park is located in the resort village of Kuta; it is a massive 4 hectares in size with tropical vegetation making up the amazing landscape. World class water slides are situated all around the park and are obviously the main attraction, but are many other recreational facilities situated within the massive grounds. You have the option of dong some wall climbing, water volley ball, bungee jumping, and getting blasted with the water blaster. For the more relaxing tourist, the park offers a spa, many swimming pools to relax in, the Wantilan Restaurant has a swim up bar facility, or just watching the kids enjoy the Kiddies Park. This park is run by an Australian concern and the safety standards are exceptionally high. There is a strict maintenance regime as well as supervision from certified lifeguards that are constantly on duty allowing parents to let their kids splash away without any worries.
Recommended Bali Tour Packages and Inland Activities
Bali Quad Discovery Tours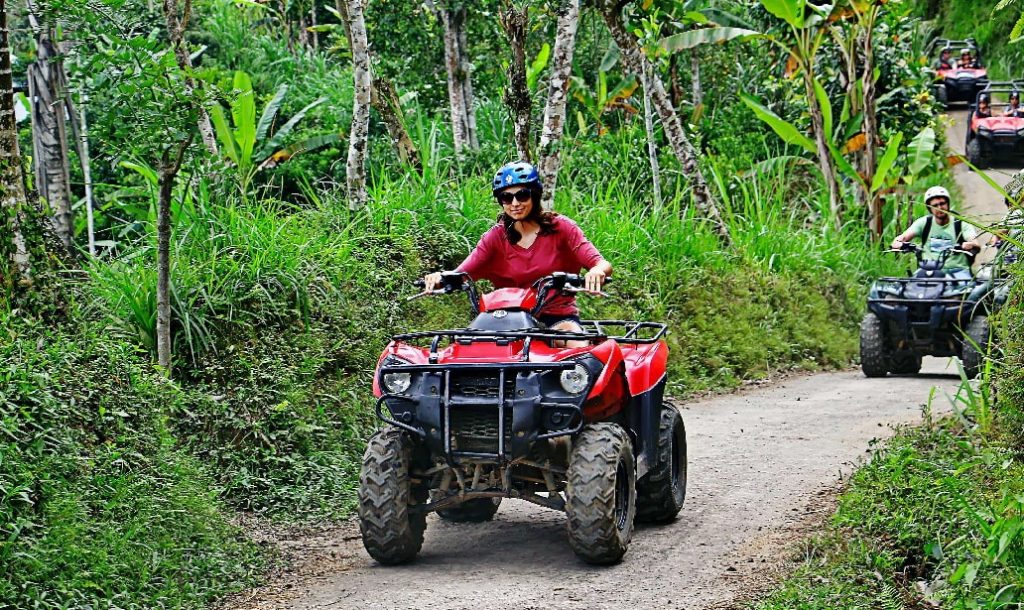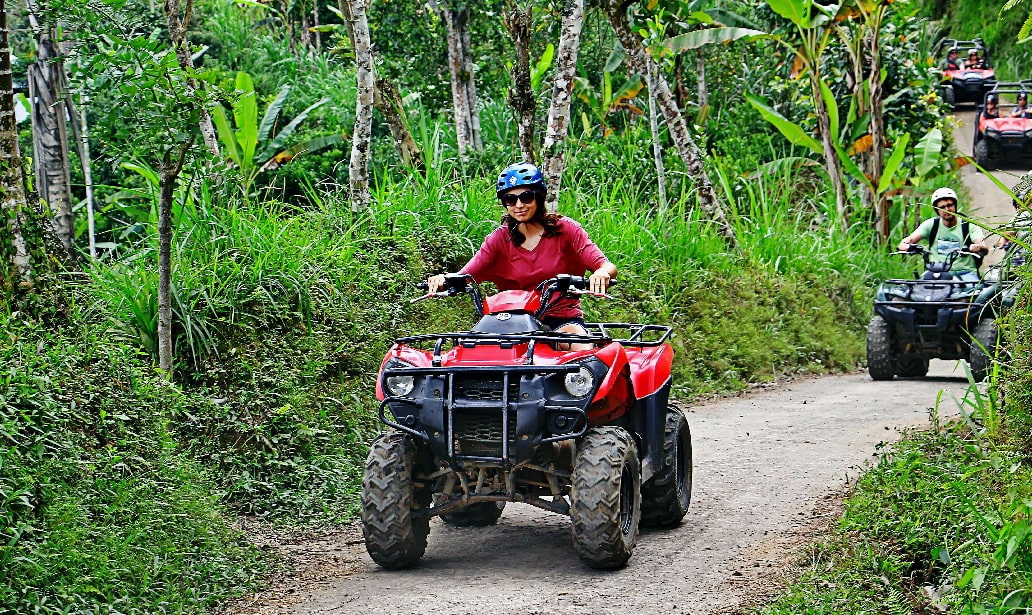 One of the oldest mountain villages of Bali, Payangan, is home to Bali Quad and buggy discovery tours. The facilities are only 15 kilometers south of Kintamani on the slopes of mount Batur close to Ayung river valley. The tour is through very isolated countryside, where you will not come across other tourists while driving your own 4 wheel quad bike. The groups are limited to six in order to not make too much of a disruption to the locals and to ensure that guides are able to give personal assistance. Groups are divided according to skill level, not necessarily age, but if you want to have your own group composed of people of all skill levels then that can be arranged. The only requirement that is needed is that you be in good physical shape as the terrain can be very demanding.
This is a very popular Bali tour packages as it wanders through many different areas of the Bali countryside allowing you to experience the diversity of Balinese culture and ends up with you standing on the edge of the crater of mount Batur. Some of the places and activities that are visited and experienced on the way is the famous Barong Dance situated in Batubulan, the village of Celuk renowned for its silver and goldsmiths, the talented village of Mas with their exquisite wood carvings, the cultural capital of Bali, Ubud that is overflowing with cultural activities and stunning artwork.
Elephant Safari Park Tour
The Elephant Safari Park situated in Taro, Tegallalang is a must do for all visitors that come to Bali as it is the only complete elephant safari experience in the world. The unique park is the home to the only Mammoth Skeleton in South East Asia and is acclaimed as the world's best elephant park that is set in a picturesque tropical setting. In between riding, sightseeing, hand feeding, touching them, taking photos with them, you can learn about their ancestry and diversity at the huge historical and graphic displays that the park has. The parks facilities also include a reception and information center, a comprehensive museum with many elephant memorabilia.
Overlooking an impressive lake is the restaurant that is able to hold over 200 people and has a fantastic international menu making it ideal not only for a visit, but is a perfect location to hold a wedding or other occasion. The gift shop has an incredible array of elephant themed items that include paintings, ivory (be careful when buying this, make sure that it will not be confiscated at your own countries airport), wood and carvings, clothing and many other souvenirs. It is perfect for honeymoon couples who crave a calmer atmosphere.
Even though the park is very tourist orientated the main purpose of the park is the protection of these elephants that have all been rescued because of the deforestation that is happening in Southern and Central Sumatra and this park has become a sanctuary for this endangered and protected species. Elephants are very intelligent creatures and at certain times of the day there are displays of the elephant's capabilities including painting. The park is great for all types of tourists and will be a highlight of your Bali tours.
As a visitor you will be able to touch and hand feed the elephants, watch as they playfully bath in the massive lakes, have personal photos taken with you riding on the elephants, witness the intelligence of these giant but gentle creatures and learn about their history, facts about them and the concerns for their future. The park also offers mini rides for the kids.
Bali Paragliding Adventure
Bali has a mountain chain that stretches across the island giving paragliding lovers spectacular views and a variety of different locations to launch from. The most popular places are , Timbis, Gunung Payung, Mount Batur and Candi Dasa.
Timbis
Bali's most popular flight zone and training center is located here, close to the spectacular Bali Cliff resort. The rugged cliffs, white beaches, clear blue seas, Hindu temples and crashing waves over the coral reefs make this the perfect spot to learn how to paragliding. There are facilities for food and drinks if you prefer just to relax and watch the more adventurous tourists jump off the cliffs. After your flight there are Balinese staff who will pack your canopy away just as you want it.
Gunung Payung
East of Timbis, maybe 15 minutes drive, Gunung Payung offers a launch area for the more experienced paraglider as at high tide there is no bottom landing and you will have to soar and steer your way eastward to avoid crashing in the water.
Mount Batur. Mount Batur is an active smoldering volcano with four craters at an elevation of 1,717m which last erupted in 2000. There is no better place to get your heart pumping before takeoff, and if you are lucky enough not to get bombarded with showering lava, the view is breathtaking. Mount Batur is located in Kintamani, north of Ubud.
Candi Dasa
Candi Dasa has a small take off area and therefore top landing is not possible, the site is a 250m high ridge. The thermals are awesome here and it is often possible to reach cloud base, 600-750 meters. The walk to take off from the black sand bottom landing beach is 20-30 minutes depending on how fit you are. There are Balinese porters if you need assistance.
There are many trusted Bali car rental with driver as well as Bali tour packages offered which will able to drive visitors or vacationers to those interesting spots.
Frequently Asked Questions About Bali Tours
What is the optimal mode to tour Bali?
Bali, with its plethora of options for intrepid explorers, culture aficionados, and sand enthusiasts alike, is rather facile to traverse. Various means of transportation, from rental cars to buses and taxis, as well as guided tours, make it a cinch to navigate this vibrant island. Crafting a comprehensive itinerary of desired activities shall illuminate the ideal route for island traversal, and pinpoint destinations to be discovered.
What is the optimal duration for a Bali escapade?
The manifold attractions of Bali proffer a gamut of activities to indulge in, and as such, a ten-day sojourn is the paragon timeframe for a comprehensive exploration of the island. Whilst our tour packages are available from a minimum of three days, it is advisable to allot a minimum of five days for the sake of delving into multiple areas.
What is the optimal time to visit Bali?
The inquiry regarding the optimal period to embark on a sojourn to Bali is a common one. Amongst the most popular months to traverse this Indonesian islet paradise is the dry season, which commences in May and culminates in September. This span of time is celebrated for its lack of precipitation, and instead boasts the presence of warm, sun-drenched days – ideal for both unearthing Bali's hidden treasures and indulging in its vast array of exhilarating undertakings, including but not limited to hiking and snorkelling.
What would be the estimated expenses for a trip to Bali?
The pecuniary outlay for a Bali excursion is contingent upon your length of stay, choice of lodging, and selection of recreational pursuits during your sojourn. By and large, if you plan on gallivanting around the island for several days, a daily expenditure ranging from $70-$100 is not an unusual occurrence. Nevertheless, it is important to note that bargains can be procured, allowing for a more frugal expenditure whilst relishing in the beauty that Bali has to offer.
Unleash the Adventure of a Lifetime: Bali Tour Packages that will take your Breath Away!