Catering for the more up market tourist, you will not find any budget hotels in the Sanur area. Sanur hotels start from the mid range and go up from there. The mid range hotels still offer an excellent in house service and great rooms. The further you travel from Kuta the more up market the resorts become and Sunar is known for its quite relaxed atmosphere without the noisy crowds associated with the more budget Bali hotels.
The hotels and villas along this white sandy seashore are designed and positioned to give you an excellent view of the ocean and palm lined beach shore. There are no real budget hotels on offer in Sanur and the tourist industry in this part of Bali is catered more towards the up market clientele. The main attraction of Sunar is the beaches that have dazzling white sand with the sea being composed of warm lagoons, making it an excellent diving area and very safe for swimming.
What can you expect when staying in Sanur hotels? The mid range hotels and villas will offer you what you might expect from a 3 or 4 star hotel in a developed country. All rooms would be air conditioned, with 24 hour room service. There would be a restaurant that has a huge range of dishes on offer, at least one international bar and lounge that you can relax in during the day or in the evening. There may be other entertainment and activities available at the hotel, if not then they will certainly provide you with everything you need to enjoy these outside the hotel. All arrangements would be made for you including transport to and from your chosen destination or leisure activity.
The top tier Sanur hotels would have everything catered for you in house so that you would not have to travel to enjoy the activities that Sanur has to offer unless you are going on a shopping trip. With Sanur being an up market area, both the villas and hotels in Sanur that are situated on the beachfront may offer private beaches for the guests. The top Sanur villas are sure to have this option. The leisure activities like scuba diving, surfing, kayaking and windsurfing will be available from these hotels with personalized tuition provided if needed.Private villas tend to be exactly that, private. At the most exclusive and private villas in Sunar you will be separated from all other villas and definitely have access to a private pool, lounging area and, depending on the budget, your private beach. The security measures in these private resorts are always exceptional to ensure that your secluded area is not disturbed. Some of the most popular places in Sanur are:
Ajanta Villas
Ajanta Villas are designed with element of gracious island living and a sense of refuge from the hassles of life. Much attention to detail is evidenced in these 8 one and two bedroom villas, creating a tranquil and a romantic feeling.
A beautiful beach is only 50 meters away via private beach access. Everything from International standard restaurant through to local warungs are at your doorstep.
Bali Hyatt
With its distinctive architecture and lush tropical gardens abounding with exotic foliage and secluded lily ponds, Bali Hyatt is a resort hotel well loved for its timeless appeal, blending into the serene village life of Sanur, Indonesia. Guests at our Bali hotel can enjoy a wide range of 5 star resort hotel facilities; relax on the Sanur beach or by the Goa Gajah pool. Bali Hyatt hosts The Spa – a traditional Balinese village-style spa offering rejuvenating massages and treatments. The hotel enjoys an accessible location next to the Sanur beach and 15 minutes from the Balinese capital – Denpasar.
Parigata Resorts Villas Group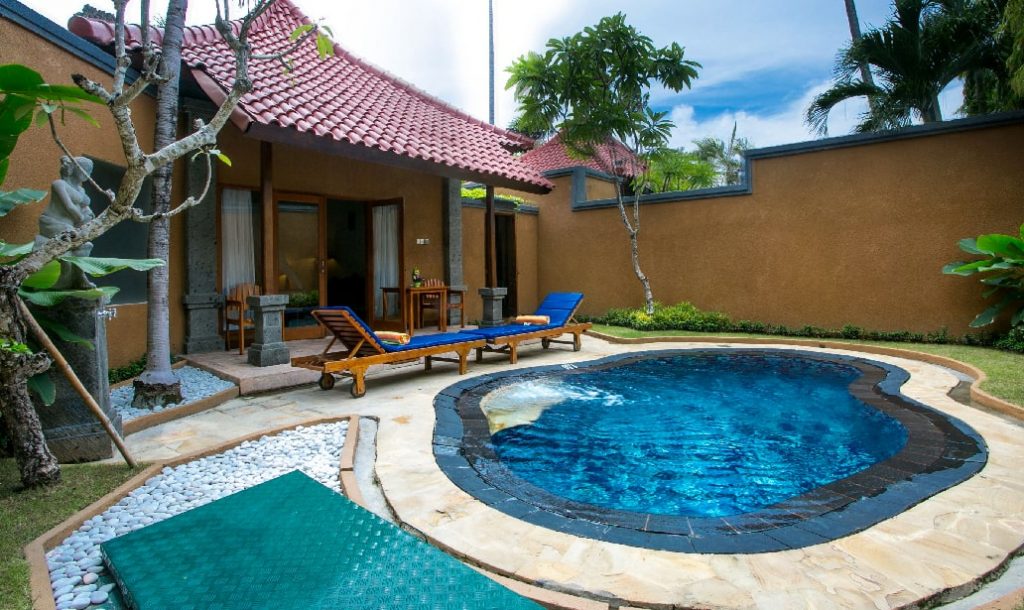 Parigata Resorts Villas Group named for the variegated bougainvillea flower found all over Bali, is an intimate 43-rooms resort nestled amid 4000 square meters of mature tropical gardens, in the legendary Sanur Village. The resort is a mansion-like home converted into a boutique oasis. Spacious deluxe and suite rooms are finished in teak and marble with terraces/ veranda overlooking the free form pool and waterfall, some with direct pool access.
Sanur Paradise Plaza Hotel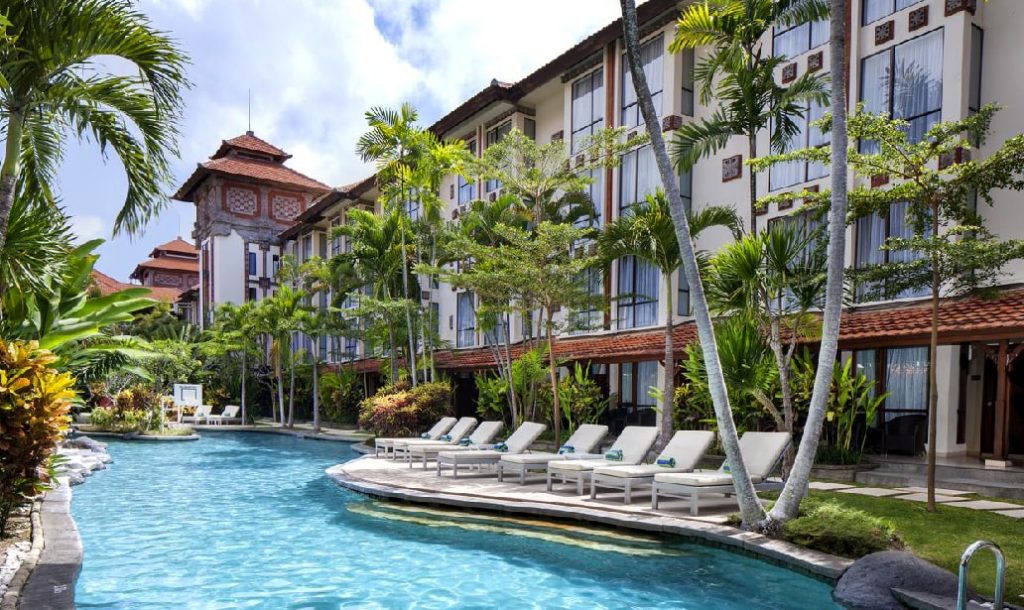 The Sanur Paradise Plaza Hotel and Suites are located in the tranquil coastal village of Sanur, Bali. Bali has it all and Sanur is the best place to start the discovery of Bali. The Sanur Paradise Plaza Hotel commands ideal location- just minutes from great shopping, entertainment and the cultural and natural attractions of Bali. With all rooms located around the lush tropical poolside gardens, the resort provides to all the needs of both the business and leisure traveler.
The Sanur Paradise Plaza Suites is the perfect gateway for families while holidaying in Bali. Consisting of Family Apartments for the special holiday in Bali. Home to Camp Splash! Considered Bali's Best Hotel's Kids Club. The ultimate kid's facility that features a 30 meter water slide and all day activities that keep the children occupied, and the parents relaxed.
There is always plenty to do when staying in Sanur accommodation, although the most common activity is relaxing on loungers on the beach or next to the many swimming pools. Diving is extremely popular here due to the natural reefs that create warm lagoons that are still and easy to explore without the dangerous currents associated with other parts of Bali. This makes the area of Sanur especially popular with families and couples. The extra cost of accommodation at Sanur hotels will exclude most of the young noisy crowd as they tend to stay in the more budget areas and Sunar is definitely not a cheap place to stay compared to the rest of Bali.
That is why leisure activities are great for families that have children, the beaches are safe for swimming and other water activities, and there is no worry about rowdy drunken groups disturbing your little piece of paradise. As always you pay for what you get and paying extra to stay in one of Sanur hotels is well worth it to get away from the maddening crowds.
Sanur beach is found along the east coast of Bali not more that 25 minutes from Bali international airport. This Balinese seaside resort has developed slowly over the years, but has become very popular for tourists ranging from mid price range all the way up to your luxury international villas and resorts. As with the rest of the Balinese people on the east coast you will be welcomed by friendly people looking to make your stay a pleasant one.
There is a long stretch of natural reefs running along Sunar beach that produces some of the best waves in the world when the conditions are good. Surfing at low tide can be a bit dangerous for the inexperienced due to the many rocks.
Apart from all the water sports available, Sanur's geographical location along the east coast gives you easy access to explore the rest of the island. Staying at one of the Sanur hotels makes traveling to places like Ubud much easier. Traveling a little way up the east coast you will leave behind the tourist resorts and come across little fishing villages that are so much a part of Balinese life. The local fishermen are more than happy to take you out on one of their boats for a small fee. The boats may not look very safe to your standards, but as long as it is a clear calm day you will be very safe going out with these experienced fishermen. It is actually very interesting to see how they catch the fish without all the modern technology that we are used to.
BIDP
Bali International Diving Professionals (BIDP) has more than 25 years of diving experience in this region of the Indo-Pacific. BIDP's organization is owned and operated by a team of Scuba Diving enthusiasts from Asia and Europe.Owner and Managing Director Avandy Djunaidi is a well known figure in the Balinese diving community and have trained many of Bali's top divers. Avandy started Scuba diving back in the eighties and has a great passion for the sea.
Bali Orchid Garden
This beautifully landscaped Orchid Garden is situated within the green belt close to Sanur, Bali. The hectare of landscaped tropical gardens provides a peaceful, relaxing environment where exquisite orchids bloom throughout the year. The botanical garden is open for individual tourists, tour groups and private functions.
As with most of the resorts found along the coast of Bali, Sanur was once a small fishing village, but also has a history of Balinese spirituality and magic, so the people who live there are unique in their customs and culture. Although Bali is such a small island you will find as you travel to different areas some major differences in the culture. That is what makes Bali one of the most exciting places to visit, the diversity of the people when traveling only a short distance.
The tourism industry has obviously had a major impact on the way that Balinese people live and how they make a living. It is very noticeable how the western way of living is starting to rub off, especially the younger generation. The main income for most of the Balinese people used to be the fishing industry, but now tourism is the largest industry on the island and one way or another the majority of Balinese now make their living creating beautiful resorts for tourists to enjoy. With the economy being so different from the developed countries you are sure to find some luxurious tropical hideout to enjoy your stay at a very affordable price. Although Sanur hotels are considered very expensive for most Balinese people, coming from a western country they are relatively cheap for the type of service and quality that is offered.
Unlike the budget Bali hotels, you will find that the top tier Sanur hotels all have their own website that you can book online, if you are intending on staying in a budget hotel then sometimes it is best just to have a look around when you land.
The hotels and villas in Sanur are more up market so booking online in advance is easy. This particular area of Bali is extremely popular with families and couples so it is very important to plan your holiday in advance and book early. The hotels and villas of Sanur that offer the most panoramic views are generally fully booked way before the peak season starts. Even though the dry season in Bali is from April to September the busiest part of the year is from June to September so it is especially important to book early during these months. There are many great hotels to choose from and you would not be disappointed with any of the top ones, so just make sure you book early and enjoy.
The only things to make sure of when booking early is that you receive confirmation from the hotel and double check that the price you paid is the same price that had been deducted from your credit card. Try not to get a ground floor room if staying in a hotel; you may be disturbed by the noise of the other people checking in and out and also the noise from the street. The higher up you are the less noise there will be. Even though the type of tourist that stays at the Sanur Hotels is more sophisticated, there is still a lot of general noise in the hotel's lobby are and restaurants and bars that are mostly situated on the ground floor.
Before your departure date, check that all your details are correct and that the room you booked is still the one that you are going to stay in. Some Sanur accommodation has a clause that allows them to move you to another room if they need to. This is not as important if this is your first trip but if you have been before and have a favorite room then make sure that you are booked in there. If you explain when booking that you have stayed there before and would like the same room or villa, they are unlikely to move you.
Staying in an up market area like Sanur, there are less security issues to worry about than staying in crowded areas like Kuta as these resorts and hotels all have personal security personnel. The one thing that you need to do as soon as you arrive is to put your passport and other valuable in the hotels safe. The cost is minimal compared to the hassle a lost passport will cause you. If you have exchanged a large amount of money then leave most of it in the safe and only carry what you need. All elite Sanur hotels and villas would offer you safe facilities. Restaurants and bars in Sunar are high end establishments and most of them will accept credit cards. It is a good idea to get a duplicate card from your bank before you leave in case you lose one, then you have a back up.
When traveling outside the resort area take care of all your valuables. If going for a day trip it is not really necessary to take expensive jewelry or a lot of cash with you. Try find out the prices of the places you are going to visit and only take that amount of cash plus some extra emergency money. You are not only going to look out for pickpockets in human form, but the monkeys that are spread around the island love to snatch anything that they can. Most of them can be coerced by some food to give the item back, but some will run away and you will never get your necklace or glasses back.
Just be as sensible on holiday as you are when you are at home and you will have a great time. Sometimes we leave out common sense on the plane and this is what tends to cause the majority of holiday mishaps. The difference between staying in a place like Kuta, and staying in one of the many Sanur hotels is the level of service and security that you can expect. There is very little that you would not get if you asked for it while staying in one of these up market Sanur resorts or villas. In case you want to traveling around, there are a lot Bali car rental with driver service on the area.
Check also: Hotels in Ubud