The small island of Bali is an oasis in paradise when it comes to hotels and recreational facilities available. The number and variety of different Bali hotels is staggering and there is something for every Budget. No matter what your reason for coming to Bali is, short vacation, wedding, business or shopping, there is going to be a location with the perfect view and perfect accommodation to suite not only your personal taste, but your budget as well. The common misconception is that Bali is an island with hotels to stay in, beaches to play in and restaurants to treat hunger.
There are so many different areas in Bali that offer breathtaking views from the hotels or villas, from the popular beaches to the tropical forests of Ubud with views of incredibly sculptured rice fields circling around the mountains. No matter which area you intent to stay at you are guaranteed a spectacular vacation.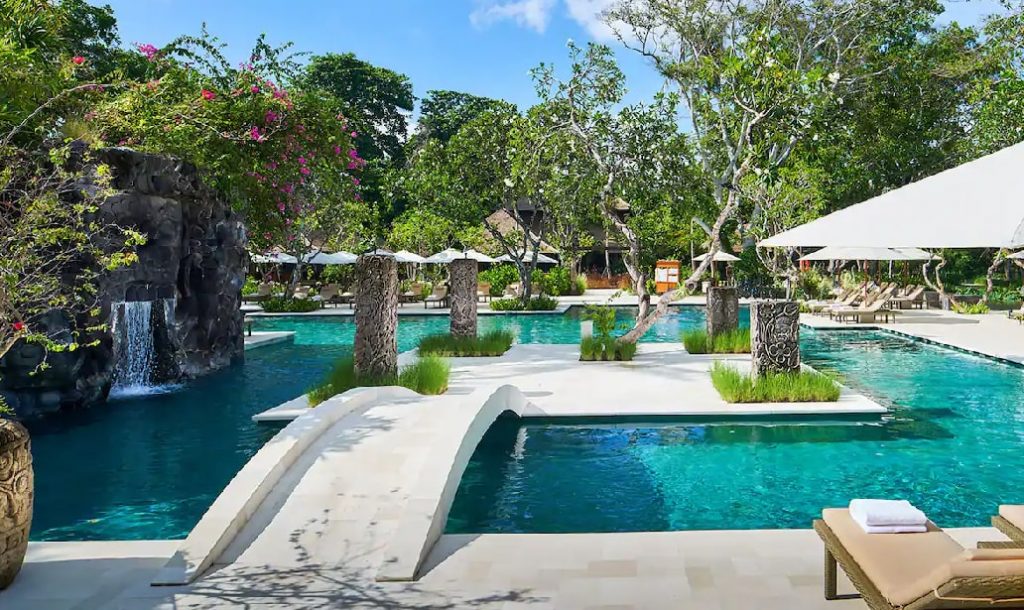 Situated on Bali's east coast, 45 minutes drive from the airport; Sanur is known as being a quiet residential area for Bali hotels, shopping and a great place to relax. This area has been established as a tourist resort for a long time and you will find some well-known hotels and villas here that have easy access to the beaches and public facilities including a mini 9-hole golf course, restaurants, cafes and other tourist attractions. There are always hundreds of local sailing boats that you can rent to do a bit of sailing or fishing.Sanur is a delightful seaside village that is very welcoming to visitors and is ideal for families and couples who want to experience the Balinese lifestyle. If you are planning on visiting Bali and want to spend some time in Sanur have a look at our Sanur Hotels article for a complete list of hotels from budget to more luxurious places to stay.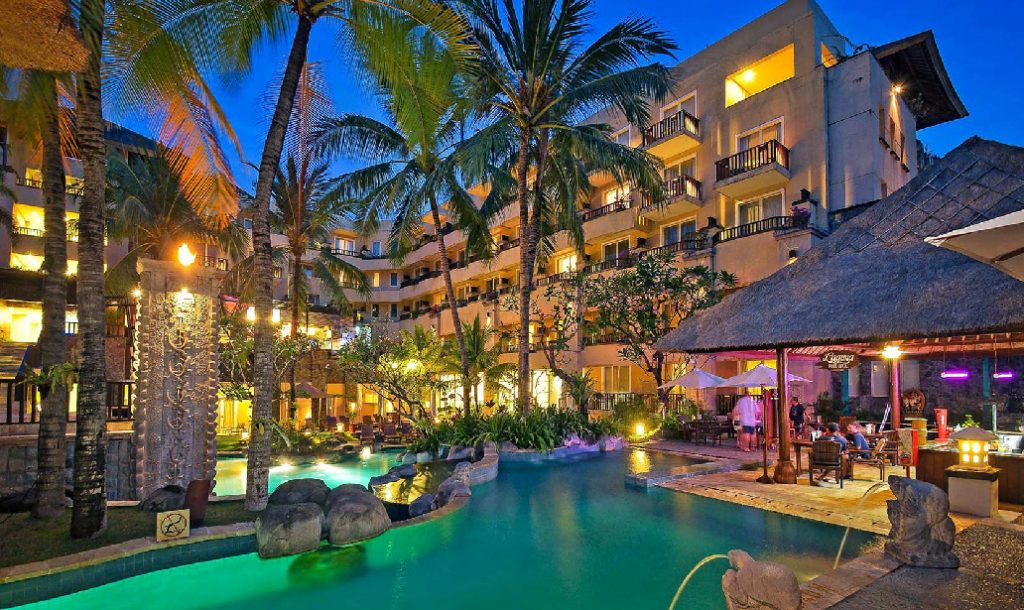 Kuta is a very popular west coast destination for tourists, not only because some of the Bali hotels in Kuta are magnificent five star places to stay, but because it is the transportation hub of Bali and offers easy access to the rest of the island. Kuta is only a short distance from the airport, 15-20 minute drive, a great relief when you have just had a long flight. The entertainment that is on offer in Kuta is endless no matter what your reason for visiting Bali is. Kuta shopping is a favorite past time amongst all tourists as well as enjoying different cuisine available at the many restaurants. Kuta nightlife is something that you should not miss if you are into some extreme thrills. Whatever your budget check out Kuta Hotels for a place to stay while enjoying all that this small island has to offer.
South Kuta Hotels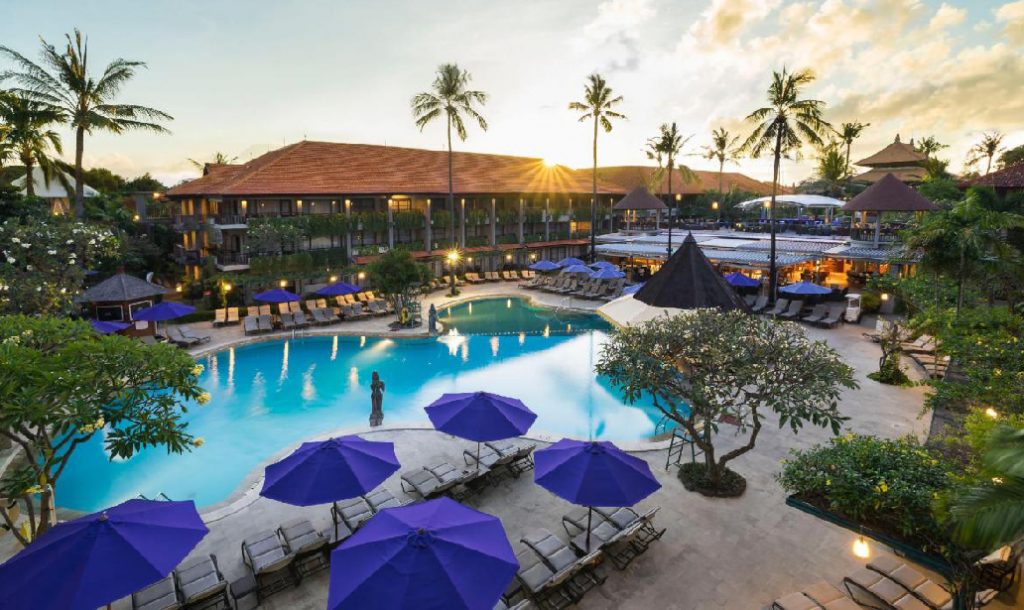 Situated only 10 minutes from the popular resort of Kuta is South Kuta, and you will find much of the same types of accommodation here as in Kuta, the only difference being that there are less budget hotels on offer. The beaches here are also beautiful white sand with stunning blue water. The recreational facilities are awesome in South Kuta, being so close to the most popular resort of Kuta.
Honestly speaking it is difficult to separate the two areas of Kuta and South Kuta as they have been developed together to provide and exceptional area for tourists to experience the Balinese lifestyle, but still providing all the luxuries and amenities that western tourists expect when is comes to the beast tourist resorts and hotels to stay in. The shopping areas around these two resorts have everything that you would expect. International designer shops are numerous in the larger complexes as well as hundreds of stalls and markets offering traditional Balinese arts and crafts.
For a more information on the specific Bali hotels that are available when you visit South Kuta go over to our main South Kuta Hotels page to find exactly what you are looking for in terms of quality and price.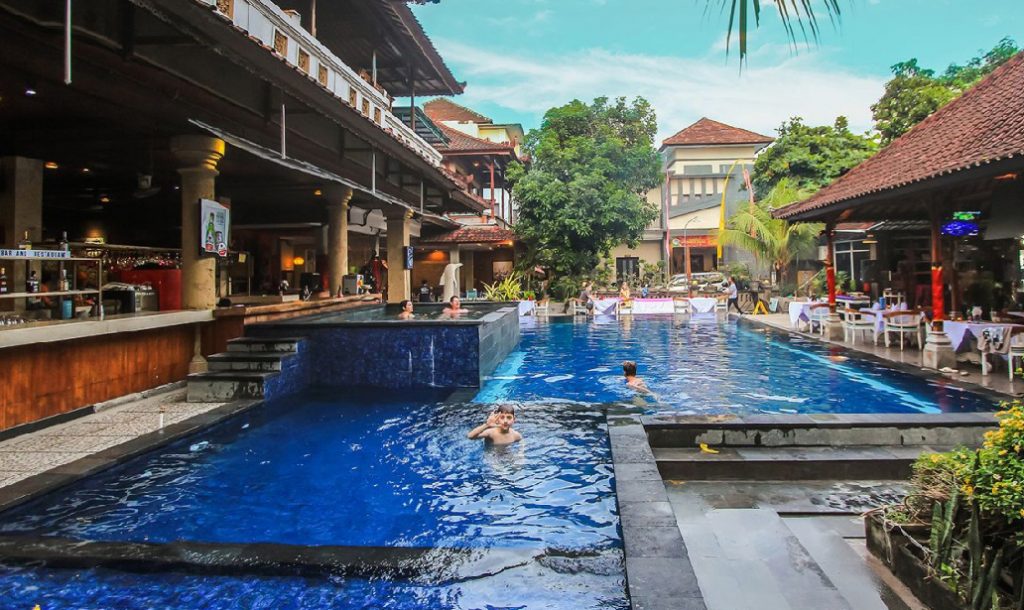 Legian is situated between Seminyak and Kuta only 15 minutes from the airport. This is a surfer's paradise that has become very popular for shoppers as well. What makes Legian so popular is that some of the hotels like Aneka Beach Hotel or Legian Paradiso Hotel are within walking distance of the beach and easily accessible to the Legian shopping, restaurants, and other entertainment facilities. There are many hotels situated in the side streets that offer very cheap places to stay if you are on a tight budget, so if you are coming to Legian to surf, shop, club or just want a relaxing scenic place to enjoy your holiday have a look at our Legian Hotels page for a complete list of Bali Hotels available in this area.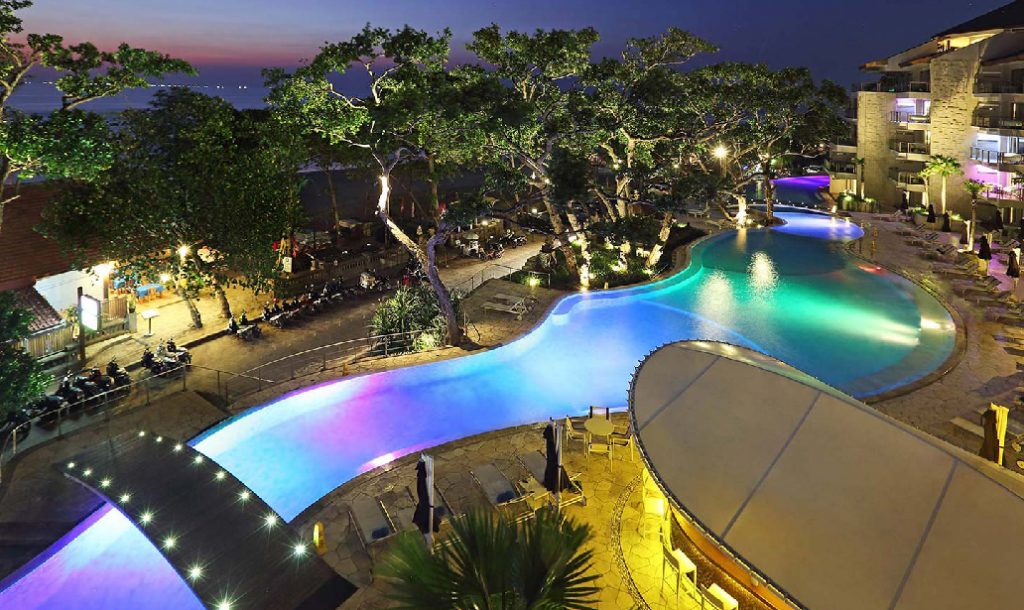 Seminyak has changed dramatically from being an area of small Balinese villages and rice paddies to becoming an up market area full of Bali Hotels and private resorts. Seminyak is around 30 minutes drive from Bali International Airport and is situated in the north between Legian and Canggu.There are many hotels to choose from in Seminyak, most of the villas have a private pool and five star service. Many foreigners stay here on a long term basis using this area as a base to run their businesses. It is a very relaxing place to holiday or live and has one of the most beautiful beaches that the Indian Ocean has to offer. As with most of the up market resorts in Bali, there are many shopping and entertainment areas close by to visit and enjoy. There are many tourists' attractions to visit in the area as well as loads of restaurants and nightclubs that make this area a very popular destination for couples, families anyone that wants to enjoy a bit of Balinese pampering. Some of the best hotels of Bali to stay in are The Samaya Bali and the Sofitel Seminyak Bali. Though this is predominantly an up market area you can still find some reasonable Seminyak Hotels to suite your budget.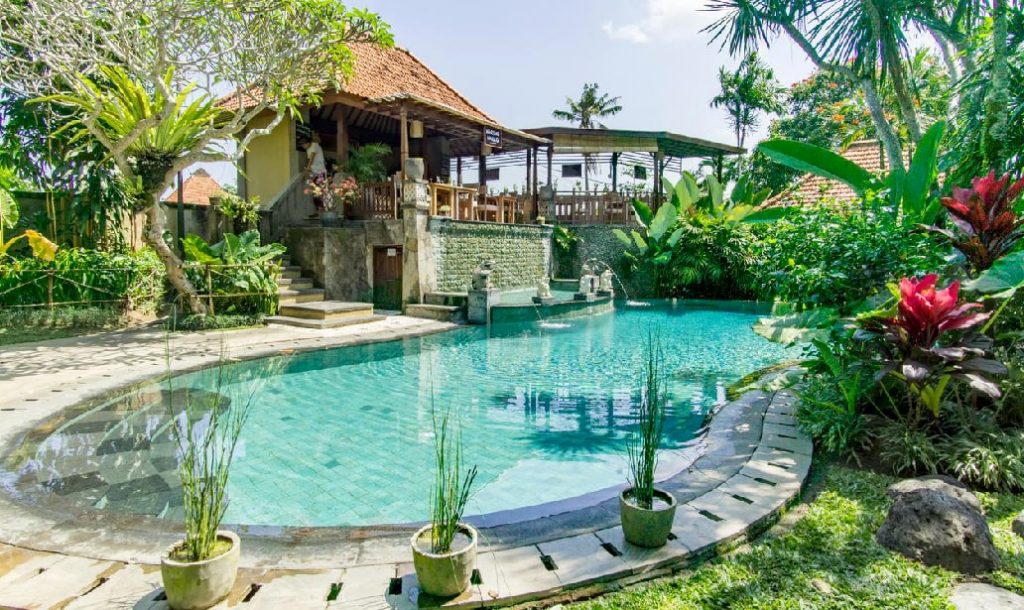 To reach Ubud you need to north from Bali airport, it takes about 90 minutes. Ubud has always been known as the place to visit in Bali when it comes to art and has attracted man famous artists from around the world. You find some of the best Balinese artists and sculpture living here and displaying their works in the many galleries, studios and handicraft shops. Some of the most amazing stone, wood and silver carvings and artwork can be found here coming from a long history of painters and artists who have lived here for generations.
The surrounding mountainous landscape is made up of untouched rain forest including the famous monkey forest, river valleys and rice fields. This is an ideal setting if you are looking for an inspirational holiday to recharge your body.
Candi Dasa Hotels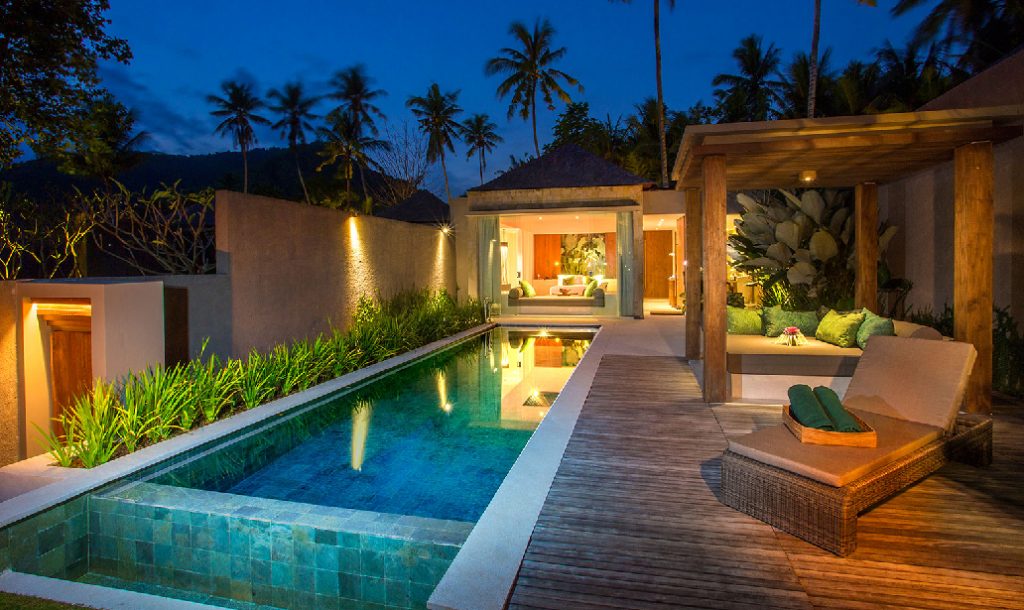 Candi Dasa is only a short drive from Ngurah Rai International Airport, its take about 90 minutes. This is a coastal community that is popular to visitors that are interested in Bali's cultural life as it has very rural surroundings. Most hotels are situated on or very close to the beach making it especially popular to surfers looking to for some great waves.

Candidasa is popular with many long term foreign visitors to Bali as it is home to the Canggu club and the International school. There are many Bali hotels to choose from to enjoy your stay while in Candi Dasa some of the more popular ones are, Candi Beach Cottage, Rama Beach Resort Candidasa, Puri Bagus Candi Dasa, Puri Bagus Manggis, The Water Garden Hotel and the Alila Manggis.For a complete list of Candi Dasa hotels that offer accommodation for all budgets visit our Candi Dasa Hotels page to find your some perfect Bali Hotels that offer everything you need.
Nusa Dua Hotels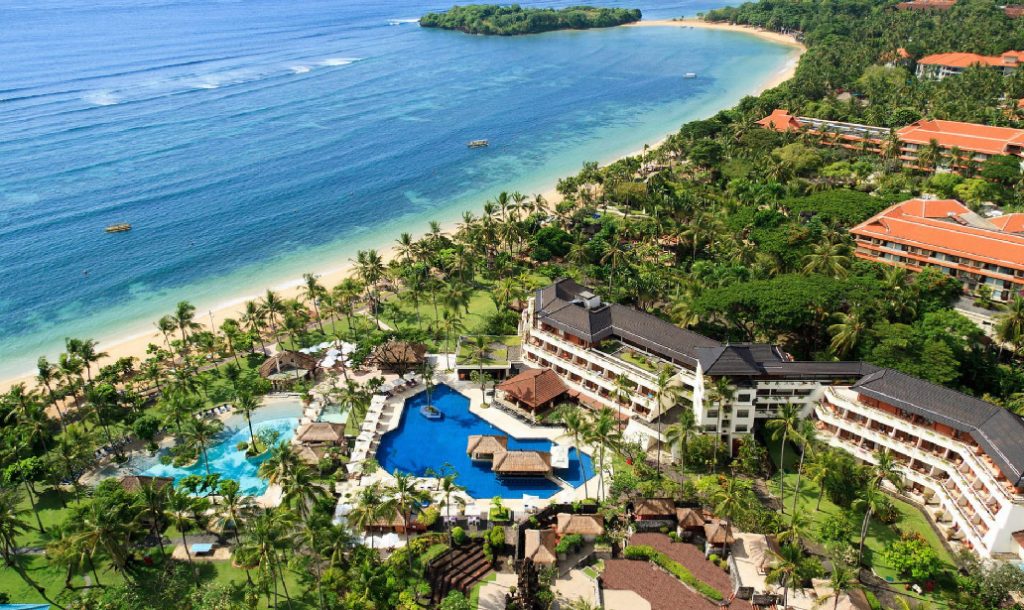 Nusa Dua is located on the southernmost tip of the island and the Bali hotels that you can find here offer some of the best sea views available anywhere in Bali. Getting here is fairly easy as Ngurah Rai International airport is only 25 minutes away. The types of Bali hotels that you would find here range from budget to exclusive 5 star hotels and resorts, including some of the better known international hotel chains. Nusa Dua is a great place to experience the Balinese scenic beauty if this is going to be your first visit.
Snorkeling and surfing is a popular pastime in Nusa Dua as well as island hoping, there are a few islands that are easily accessible by small boats or by walking when the tide is low. Just make sure you get the tide information before taking a walk to the nearby islands as you don't want to get stranded when the tide comes in. Although Nusa Dua does have some budget accommodation, it is more known as being an exclusive tourist resort as the area has had a lot of development done to create hectares of lush tropical gardens blooming with Balinese flowers and plants, set against the backdrop of the sparkling clear blue Indian Ocean. There are very few resorts that offer the spectacular location that Nusa Dua has to offer with regards to accessibility, views and service.
If you are planning to stay in any of the Bali hotels, then Nusa Dua is a must to visit for at least two days as the Nusa Dua Hotels are all situated on prime beach front property. Not only for families and couples, but if you are looking for a corporate venue then the biggest international convention center in Bali is located here, what a way to inspire your employees.
Jimbaran Bay Hotels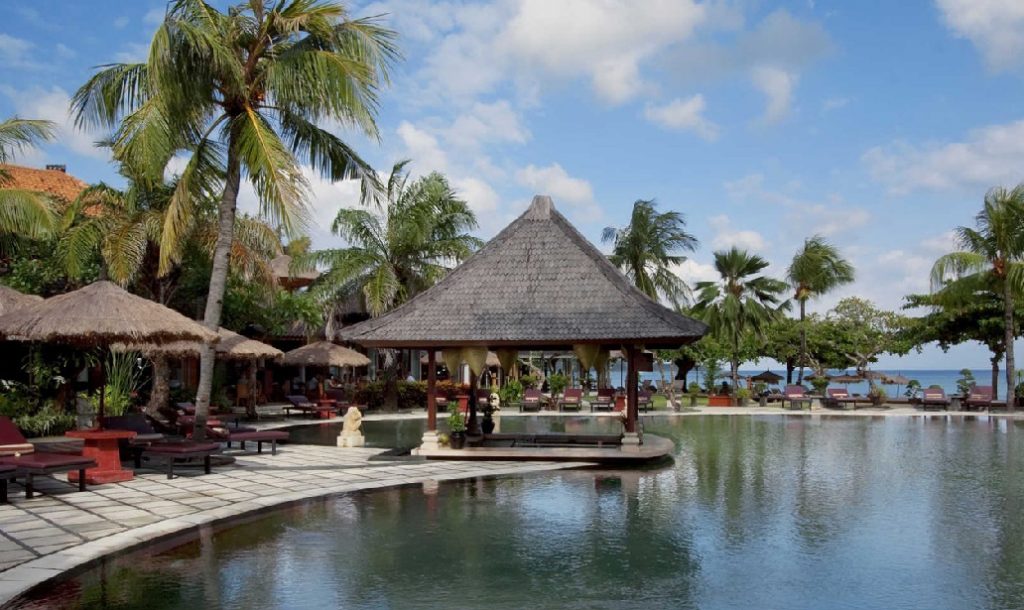 Jimbaran is situated in the southern part of Bali, situated between Nusa Dua and Kuta and is very quickly developing into one of the more exclusive resorts to be found in Bali with hotels and villas offering the best accommodation and facilities to be found on the island. Getting here is only a 15 minute drive from Ngurah Rai Bali International Airport and 15 minutes from the popular Nusa Dua beach.
The wonderful thing about Jimbaran is that although there are many hotels and villas in the area it has managed to remain a traditional Balinese fishing village. If you are looking for an exquisite beach front hotel to stay in and still be able to be part of the simple Balinese lifestyle then Jimbaran is definitely for you. The Balinese fishermen continue their daily routine and it is wonderful to see the fishing boats lined up along the gleaming white sandy beach. For a truly Balinese experience you can talk to one of the fisherman and they will take you out on one of their fishing trips for a small fee.
There is also a beautiful seaside international golf course in Jimbaran for you to enjoy, in fact there are a few different golf courses around the island so you can make your vacation a golfing tour. That is the beauty of coming to Bali, there is so much to do and see that visiting once will only have you start booking your next trip and soon as you arrive home. If you are into shopping then it is not far to travel from Jimbaran if you want to take a day out and go to the more touristy places like Kuta and do some shopping in the massive shopping areas.
There are just so many places to choose from when coming to Bali on holiday, but Jimbaran Bay Hotels offer you a more quiet up market experience of Bali without the crazy crowded areas of the more popular tourist areas like Kuta.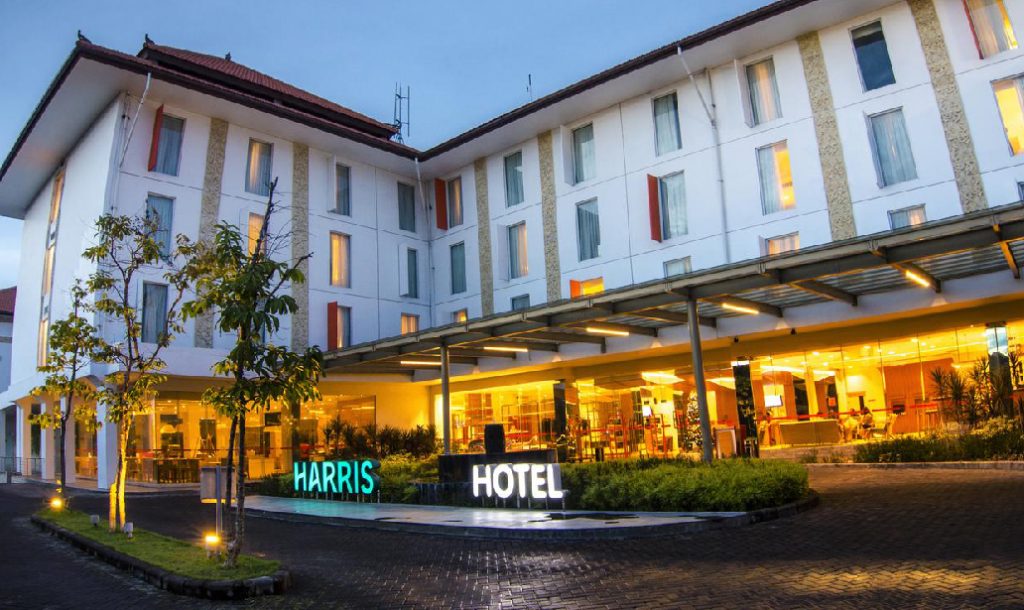 Denpasar is the capital of Bali and has a population of more than 1 million people; it is the center of all commercial and government activity. It takes about 60 minutes to get there by car from Bali airport and is very much a multicultural place with people from Japan, Sudan and many other areas of Indonesia living there.
If you want to experience the real city life of Bali this is the place to stay as there are many restaurants places of entertainment, shopping and some lovely hotels. Even though the traffic is very congested and noisy Denpasar is still a friendly place to visit. The majority of foreign tourists don't stay long as there is no beach and not much of nightlife, but some of the houses surrounding the city are incredible and many foreign business men live there.
Even though there is no beach it is definitely recommended to stay in Denpasar for at least one night and there are many Denpasar Hotels to choose from to make your stay more comfortable.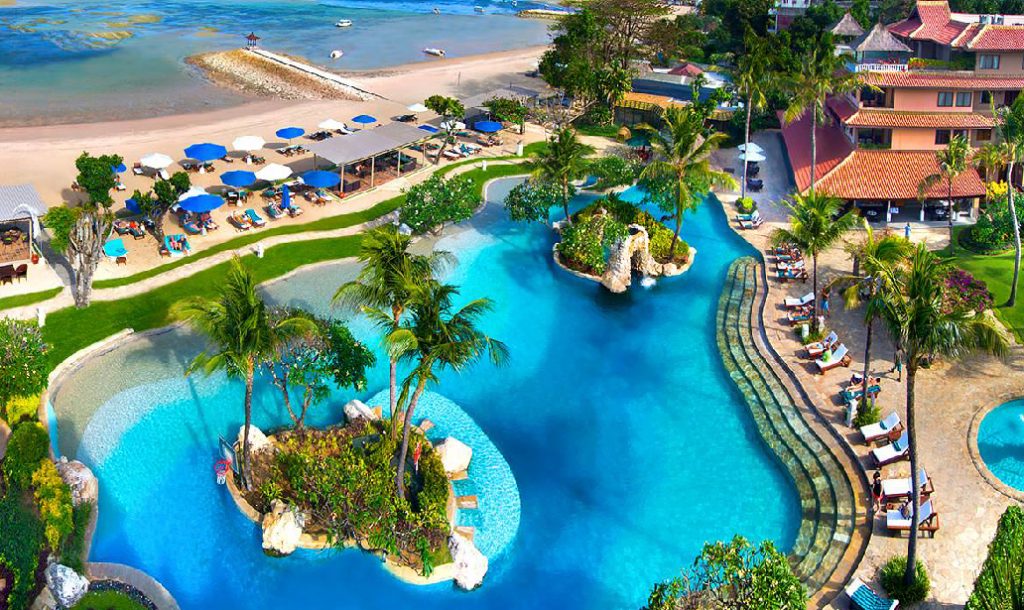 Tanjung Benoa is a great destination and favorite attraction for tourists visiting Bali. To reach Tanjung Benoa there is a quick drive of 15 minutes from Bali International Airport and it is only 10 km from Ngurah Rai International Airport. The hotels here have a wide range of rooms, some better than others; the ones at the back are quieter, while those with ocean views at the front are also lovely but face a surprisingly noisy coastal path.
Tanjung Benoa has a lot to offer, from great beaches that you can swim in, scuba diving and other beach activities. There are many dive shops that will teach you how to dive if you are a beginner. For those that do not like the beach there is a 18-hole championship golf course at the Bali Golf and Country Club. For those who like to roam free, you can use a Bali car rental service to explore the surrounding country and enjoy the many restaurants that offer traditional as well as international food. Depending on your budget there are restaurants and hotels to suite. Tanjung Benoa has many hotels and restaurants that offer good affordable meals and rooms for the travel on a tight budget.