Looking for the perfect place to enjoy a wonderful time with your loved one? Look no further than Bali! Our Bali Tour Package for Couples are designed to provide you with an exceptional experience, where you can explore this enchanting paradise and make memories that will last a lifetime.
Bali is renowned for its captivating attractions and unique adventures, making it an ideal destination for couples seeking romance. With a wide range of activities and luxurious accommodations, Bali has everything you need to make your trip truly special. Join us on a remarkable journey to discover the breathtaking beauty and cultural wonders of this tropical island.
Unforgettable Experiences in Bali
When it comes to romantic getaways, Bali offers an array of unforgettable moments for couples to share. Whether it's strolling hand in hand along the picturesque beaches at sunset or savoring intimate candlelit dinners, you'll find endless opportunities to create cherished memories together. Let us introduce you to just a few of the romantic activities that await you in Bali:
| Romantic Activities | Attractions |
| --- | --- |
| Sunset Beach Walks: Bali's beaches offer stunning views at sunset, creating an incredibly romantic atmosphere for couples to stroll hand in hand. | Ubud Monkey Forest: A unique and thrilling experience, where couples can get up close and personal with mischievous long-tailed macaques. |
| Couples Massages: Relax and unwind together at one of Bali's luxurious spas, and indulge in a relaxing couples massage that soothes the body and soul. | Tanah Lot Temple: A popular sightseeing spot, where couples can witness Bali's most iconic temple and enjoy stunning ocean views. |
| Candlelit Dinners: Enjoy a romantic dinner for two under the stars, with options ranging from beachfront dining to private villa dinners. | Kecak Fire Dance: A traditional Balinese dance performance that tells the story of the Ramayana, featuring fire and chanting. |
When it comes to creating unforgettable memories as a couple, Bali has it all. In addition to the romantic activities, this beautiful destination is home to popular attractions that are perfect for couples to enjoy together. One of these is the famous Ubud Monkey Forest, a thrilling place where you can connect with nature and capture Instagram-worthy moments that you'll treasure forever. Another must-visit spot is the magnificent Tanah Lot Temple, where you can immerse yourself in Bali's vibrant cultural heritage while soaking in breathtaking ocean views.
Bali offers an abundance of experiences that cater to all interests and desires, ensuring that couples can find something truly special to enjoy together. Whether you're exploring the lush landscapes, indulging in delicious local cuisine, or simply relaxing on pristine beaches, Bali guarantees an unforgettable journey for couples seeking romance and adventure.
With its captivating attractions and enchanting ambiance, Bali is the ultimate destination for couples who want to create cherished memories in a truly magical setting. Don't miss out on the opportunity to embark on an extraordinary adventure with your loved one. Visit Bali and let the captivating beauty of this paradise island captivate your hearts.
Luxurious Accommodations in Bali
When it comes to a romantic tour in Bali, the accommodations play a vital role in creating an unforgettable experience for couples. Bali offers a wide range of luxurious options, including resorts and villas, that are perfect for indulging in a romantic escape filled with comfort and privacy.
Imagine waking up to breathtaking ocean views or having your own private pool to relax in. Bali's romantic resorts and villas provide all the amenities you could dream of. These specially designed accommodations cater to couples, offering intimate settings with high-end finishes, charming alfresco showers, and traditional Balinese architecture. Every detail is carefully crafted to ensure a comfortable and romantic stay.
Whether you choose a secluded villa nestled in lush greenery or a beachfront resort with direct access to the crystal-clear waters, Bali's accommodations for couples are the epitome of luxury and romance. Experience the perfect blend of comfort, privacy, and enchanting ambiance as you create beautiful memories together in this tropical paradise.
Romantic Resorts in Bali
Bali also boasts some of the best romantic resorts in the world. The resorts offer spacious rooms, breathtaking views, and an array of services designed to spoil couples. Many of the resort properties offer private beaches, outdoor showers, and tropical gardens.
| Resort name | Location | Features |
| --- | --- | --- |
| The Mulia Villas | Nusa Dua | Private pools, beach access, 24-hour butler service |
| COMO Uma Ubud | Ubud | Spa services, yoga retreats, organic food restaurant |
| The Legian Bali | Seminyak | Beachfront location, luxury spa, butler service |
These luxurious resorts in Bali offer memorable experiences, leaving couples feeling pampered and relaxed.
Romantic Beaches in Bali
In beautiful Bali, you'll discover an abundance of top-notch romantic resorts that are simply out of this world! With spacious rooms, jaw-dropping views, and a wide range of pampering services, these resorts are a paradise for couples. You can bask in the luxury of private beaches, enjoy refreshing outdoor showers, and lose yourselves in the enchanting tropical gardens. Get ready for an unforgettable romantic escape in Bali!
Kuta Beach: A popular destination for couples, Kuta Beach offers stunning sunsets, crystal-clear waters, and plenty of beachside activities. Rent a surfboard or take a romantic stroll along the shore.
Seminyak Beach: This beach offers a more secluded and upscale experience. Enjoy the beautiful sunset and indulge in a beach picnic or a candlelit dinner at one of the many restaurants along the shore.
Jimbaran Bay Beach: Famous for its fresh seafood, Jimbaran Bay Beach is a great spot for a romantic dinner. Enjoy the sunset while dining on grilled seafood and sipping on cocktails.
Nusa Dua Beach: This beach is known for its calm, crystal-clear waters, perfect for swimming and snorkeling. Take a dip in the ocean with your loved one and explore the vibrant marine life.
Other couple-friendly beaches in Bali include Sanur Beach, Dreamland Beach, and Padang Padang Beach.
Beach Activities for Couples in Bali
Aside from soaking up the sun and enjoying the beautiful scenery, there are plenty of activities for couples to enjoy on Bali's beaches.
Surfing Lessons: Catch some waves and ride the ocean together with professional surfing lessons. Bali is a great place to learn, with waves suitable for both beginners and experienced surfers.
Sunset Cruises: Take a romantic sunset cruise along Bali's coastline, enjoying the warm tropical breeze and stunning views. Many cruises offer dinner and entertainment as well.
Beach Picnics: Book a romantic picnic on the beach, complete with gourmet food and drinks. Relax on a blanket by the shore and take in the beautiful scenery.
Beach Yoga: Many beaches in Bali offer yoga classes, perfect for couples who want to relax and unwind. Practice your downward dog while enjoying the sound of the waves and the salty sea breeze.
Whatever your preference, Bali's beautiful beaches and activities offer the perfect backdrop for a romantic getaway with your loved one.
Cultural and Spiritual Experiences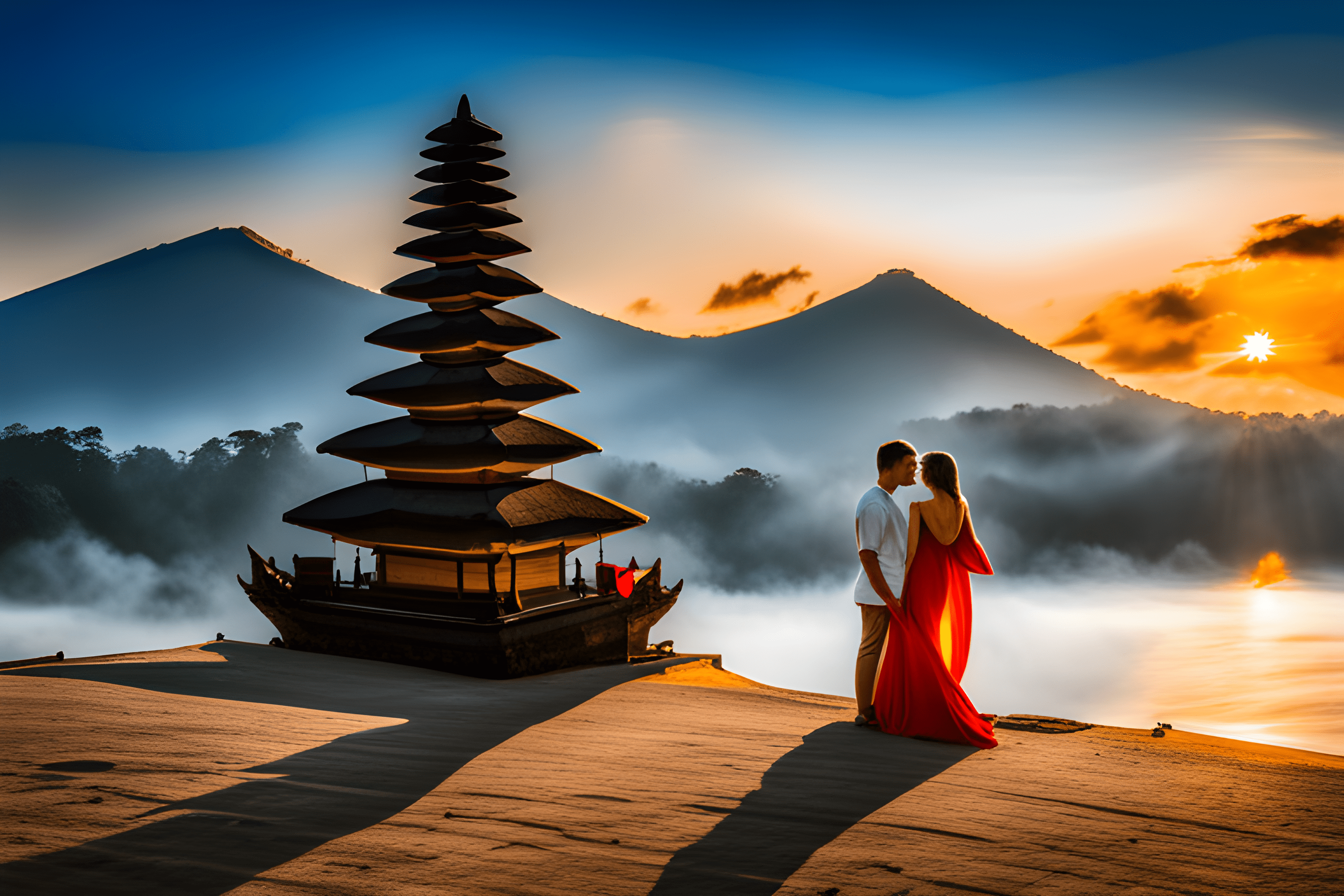 Exploring the cultural and spiritual side of Bali is a must for any couple seeking a unique and enriching experience. Bali has a rich history and unique traditions that are sure to captivate and inspire visitors.
Traditional Temples
Bali is a treasure trove of traditional temples, each showcasing its distinct architectural style and deep spiritual meaning. One of the most renowned among them is the legendary Pura Besakih, lovingly referred to as the 'Mother Temple'. Nestled on the slopes of majestic Mount Agung, it holds an unparalleled reverence in Balinese culture. Moreover, couples can explore the magnificent Uluwatu Temple, perched gracefully on a cliff that offers breathtaking vistas of the Indian Ocean. Here, they can immerse themselves in captivating traditional Balinese dance performances, creating cherished memories together.
Cultural Performances
Couples can truly connect with the vibrant local culture of Bali by immersing themselves in traditional Balinese dance and music performances. As the sun sets, the mesmerizing Kecak Dance steals the hearts of visitors, narrating the captivating tale of Ramayana through an enchanting blend of dance and song. Engaging in this unique cultural experience leaves an indelible mark on the senses. Additionally, the renowned Barong Dance stands out as a must-see performance, showcasing an epic battle that portrays the eternal struggle between good and evil. Witnessing these awe-inspiring spectacles creates unforgettable memories for couples and offers a profound glimpse into the artistic heritage of Bali.
Yoga Retreats
Bali is a dream destination for couples looking to revitalize their minds and bodies with invigorating yoga and wellness retreats. Among the renowned options, Yoga Barn in Ubud stands out as a favorite. This vibrant retreat center provides a range of daily classes and engaging workshops that cater to all levels of experience. Couples can explore various yoga styles and discover inner peace in a serene and picturesque setting. For those seeking a unique experience, Bali Silent Retreat, nestled in the tranquil hills of Tabanan, offers an opportunity to embrace stillness and tranquility. Participating in a silent retreat allows couples to reconnect with themselves and each other, away from the noise and distractions of the world. Bali's yoga and wellness scene promises an enriching journey for couples, where they can find balance, serenity, and renewed energy.
Local Crafts and Workshops
Couples can also dive into the lively arts and crafts scene of Bali by exploring local workshops and artisanal stores. These vibrant establishments showcase an array of captivating treasures, including meticulously handcrafted jewelry, exquisite textiles, and intricate wood carvings. To discover one-of-a-kind souvenirs that embody the spirit of Bali, a visit to the bustling Ubud Market is highly recommended. This vibrant marketplace offers an enchanting experience, where couples can browse through an abundance of unique and authentic offerings. From beautifully woven fabrics to stunning pieces of art, the market is a treasure trove of artistic expression. Exploring Bali's arts and crafts scene adds a touch of creativity and cultural richness to any couple's journey.
Spa and Wellness Retreats
Discover the epitome of relaxation and revitalization as you explore our handpicked selection of spa and wellness retreats designed for couples in Bali. Surrounded by breathtaking natural beauty and immersed in the island's vibrant cultural heritage, Bali presents an array of extraordinary opportunities for couples seeking rejuvenation.
Unwind with a soothing couples' massage, enveloped by lush tropical landscapes, or delve into ancient healing techniques that have been passed down through generations. From invigorating yoga sessions to luxurious spa treatments, each experience is thoughtfully crafted to nurture your mind, body, and spirit.
Whether you choose to bask in the tranquil serenity of a riverside retreat or find solace amidst the tranquil sounds of crashing waves, Bali's spa and wellness offerings provide a sanctuary where couples can reconnect and find inner harmony. Embark on a journey of ultimate relaxation and embark on a path of holistic well-being in the enchanting embrace of Bali's spa and wellness retreats.
Luxurious Spas
Bali is celebrated for its opulent spas, providing a haven for indulgence with a harmonious blend of natural ingredients and ancient practices. Couples can revel in the pinnacle of pampering through a selection of spa packages that encompass an array of treatments, from soothing massages to invigorating facials and rejuvenating body scrubs. Notable spa sanctuaries for couples include the exquisite COMO Shambhala Estate, where tranquility and serenity meet, the Four Seasons Resort Bali at Sayan, where luxury and wellness intertwine, and the Mandapa Spa by Ritz-Carlton, where indulgence takes on a new level of refinement. Immerse yourself in the world of blissful relaxation as you partake in these highly recommended spa experiences, where expert therapists cater to your every need, leaving you feeling rejuvenated, refreshed, and ready to embrace the enchanting charm of Bali.
Couple's Massages
If you and your loved one are seeking a tranquil escape to unwind and rejuvenate, Bali presents a delightful array of couple's massages that are specially crafted to enhance intimacy and relaxation. Immerse yourselves in a romantic oasis as skilled therapists work their magic amidst the serene beauty of private outdoor settings, whether it be overlooking the mesmerizing ocean or the verdant expanse of rice paddies. Indulge in an unforgettable couple's massage experience at our recommended spas, including the Laguna Bali Spa, where serenity and bliss unite, the Ayana Spa, where luxury and rejuvenation harmonize, and the Karma Spa, where tranquility and well-being intertwine. Let the expert hands of skilled masseuses transport you and your partner to a state of pure relaxation and harmony, as you create cherished moments together in the idyllic embrace of Bali's enchanting ambiance.
Wellness Activities
Beyond the realm of spa treatments, Bali offers an array of invigorating wellness activities for couples to relish. Engage in revitalizing yoga classes, where you can stretch and flex together, fostering a sense of harmony and balance. Embrace the serenity of meditation sessions, allowing your minds to find peace amidst the island's tranquil surroundings. For a transformative experience, delve into detox programs designed to cleanse and revitalize your bodies, leaving you refreshed and reenergized. Our recommended wellness activities encompass the renowned Yoga Barn, where you can immerse yourselves in the world of yoga and holistic practices, the Bali Silent Retreat, providing a haven of tranquility for deep reflection, and the Fivelements Retreat Bali, where the elements of nature come together to restore and rejuvenate. Embark on these wellness journeys hand in hand, as you discover the beauty of inner wellness and the healing power of Bali's holistic offerings.
Customizable Packages
At our recommended spas and wellness retreats in Bali, we understand that every couple is unique, with different desires and aspirations. That's why we offer customizable Bali tour package for couples that can be personalized to cater to your specific needs and preferences. Whether you're yearning for a romantic escape, a rejuvenating detox experience, or a transformative spiritual journey, Bali has a wealth of options to fulfill your desires. Get in touch with us, and our dedicated team will work closely with you to design a bespoke package that perfectly aligns with your aspirations. Let us create a tailor-made experience that will leave you with memories to cherish and a renewed sense of well-being.
Romantic Dining in Bali
When it comes to a romantic Bali tour package, a culinary adventure awaits you and your loved one. Bali boasts a plethora of delightful restaurants and dining venues, perfect for couples in search of both a cozy ambiance and a mouthwatering feast. From charming cafes to exquisite fine dining establishments, you'll discover a variety of options that cater to your desire for a romantic setting and a gastronomic experience. Allow your taste buds to dance with joy as you savor the delectable flavors of Bali, while basking in the intimate atmosphere that surrounds you. Get ready to embark on a culinary journey filled with love, flavors, and unforgettable moments.
Romantic Restaurants in Bali
When it comes to romantic dining experiences, Bali boasts a plethora of restaurants that will sweep you off your feet. From breathtaking views to private dining settings and top-notch service, you'll find it all here. For a truly enchanting evening, head to Swept Away at The Samaya Ubud, where you can enjoy a candlelit dinner by the riverside. Alternatively, Mozaic Restaurant in Ubud offers a delightful fusion of French and Asian cuisine, served in a lush garden ambiance. With these options and more, Bali sets the stage for unforgettable romantic moments and culinary delights that will leave you craving for more. Get ready to savor the flavors of love in the most picturesque settings Bali has to offer.
Couple-Friendly Dining Options
When it comes to dining as a couple in Bali, the options are endless. Apart from the romantic restaurants, there are plenty of delightful choices that cater specifically to couples. Picture this: you and your loved one enjoying a beachside picnic on the pristine white sands of Jimbaran Beach. Delight in the flavors of fresh seafood while basking in the breathtaking sunset views. If you're looking for something more exclusive, consider a private dining experience in one of Bali's luxurious villas. With a personal chef at your service, you can savor a customized menu that caters to your unique preferences. These couple-friendly dining options in Bali are sure to create cherished memories and moments of culinary bliss. Get ready to embark on a gastronomic adventure with your special someone in the heart of Bali's natural beauty.
Bali Cuisine for Couples
When it comes to culinary delights, Bali offers a plethora of unique and tantalizing dishes that couples can savor together. Take a culinary journey with your loved one and discover the flavors that make Bali's cuisine so special. Don't miss out on the mouthwatering nasi goreng, a delectable dish of Indonesian fried rice that will leave you wanting more. For an unforgettable taste sensation, try the renowned babi guling, succulent suckling pig with its perfectly crispy skin. And let's not forget the delectable sate lilit, skewered minced meat bursting with aromatic spices. Bali's cuisine is a fusion of traditional Indonesian ingredients and cooking techniques, infused with the influences of neighboring countries. Get ready to embark on a culinary adventure that will leave your taste buds dancing with joy.
"Bali is a food lover's paradise, offering the perfect blend of culture, flavor, and romance."
Transportation and Logistics
Getting around in Bali can be a challenge, especially for couples who want to maximize their time together and have hassle-free transportation. Fortunately, there are several options available to make transportation and logistics a breeze.
Private Transfers
For couples who want a more personalized and comfortable transportation option, private transfers are a great choice. Private transfers offer hotel-to-hotel service, and the vehicle and driver are exclusively for the couple's use. This option is perfect for couples who want to avoid the crowds and enjoy a stress-free journey to their destination. This service covering airport transfers as well.
Scooter Rentals
If you're looking for a convenient way to explore Bali, renting a scooter can be a great option, especially in bustling areas. However, it's worth keeping in mind that driving in Bali can feel a bit overwhelming, and the roads may not always be in the best condition. For couples planning to rent scooters, it's essential to familiarize themselves with the local traffic rules, including the importance of wearing helmets and having an international driver's license.
When it comes to getting around Bali hassle-free, scooter rentals come to the rescue, particularly in areas with heavy traffic. But don't forget, navigating the roads of Bali can be a little daunting, and you may encounter some rough patches along the way. It's crucial for couples to stay informed about the traffic regulations, such as wearing helmets and possessing an international driver's license, to ensure a safe and enjoyable ride.
Bali Private Driver Services
If you're a couple looking for a convenient way to explore Bali, hiring a private driver service is a fantastic option. With a dedicated driver at your service, you'll have the flexibility to visit different destinations and attractions throughout the day. It's the perfect choice for couples who want to make the most of their time in Bali and have a knowledgeable local expert to guide them along the way.
Discover the wonders of Bali with our exclusive private driver service tailored for couples. Imagine having your own personal chauffeur who can whisk you away to incredible destinations and attractions. With this flexible option, you can optimize your time and let a knowledgeable local guide you through the hidden gems of Bali. Say goodbye to the stress of navigating unfamiliar roads and embrace the convenience of a Bali private driver, ensuring an unforgettable couple's adventure in Bali.
Visa Requirements
It is important to note that Indonesia has specific visa requirements for travelers. Couples should research and ensure they have the necessary visas in advance to avoid any issues at the airport or border entry points.
Local Customs
When planning a Bali tour package for couples, it's essential to embrace the unique local culture. Understanding and respecting the customs and traditions of Bali is key. Take a moment to learn about the appropriate dress code and etiquette, especially when visiting temples and other cultural sites. By embracing these local practices, couples can fully immerse themselves in the rich cultural experience Bali has to offer.
By taking these factors into account, couples can ensure a smooth and enjoyable transportation experience while exploring the wonders of Bali. With a variety of options available, from private transfers to hiring a private driver, couples can choose the option that suits their preferences and maximizes their comfort. Say goodbye to transportation worries and get ready to embark on an unforgettable journey through Bali's breathtaking landscapes and vibrant culture.
Section 10: Frequently Asked Questions (FAQ)
Planning a trip to Bali can come with a lot of questions and concerns. We've gathered a list of commonly asked questions to help ease the booking process for our romantic Bali tour package.
What is included in the Bali tour package for couples?
Our Bali tour package for couples includes luxury accommodations, airport transfers, private tours and activities, daily breakfast, and a honeymoon package with romantic experiences.
How much does the Bali tour package for couples cost?
The cost of the Bali tour package for couples varies depending on the season, selected accommodations, and activities. Please contact us for a personalized quote.
What is the cancellation policy for the Bali tour package?
The cancellation policy for our Bali tour package for couples is as follows:
If cancelled more than 60 days prior to arrival, 50% of the total package cost is refunded.
If cancelled less than 60 days prior to arrival, the full package cost is non-refundable.
Can the Bali tour package be customized?
Yes, our Bali tour package for couples can be customized to fit your specific needs and preferences. Please contact us to discuss customization options.
What are the visa requirements for traveling to Bali?
Visitors from certain countries may require a visa to enter Bali. It is recommended to check the visa requirements for your country prior to traveling. Visa on arrival is available for some countries.
What is the best time of year to visit Bali?
The best time to visit Bali is during the dry season, which is from April to October. However, Bali can be visited year-round with unique experiences and attractions available in every season.
What is the transportation like in Bali?
Transportation options in Bali include private transfers, Bali car rental with driver services, and scooter rentals. It is important to note that traffic in Bali can be heavy and unpredictable.
What currency is used in Bali?
The currency used in Bali is the Indonesian Rupiah (IDR). It is recommended to exchange currency at official money changers or banks.