As we know, the Bali island has been known as the Island of a Thousand Temples, the Island of Gods as well as a piece of heaven on Earth. Which is a paradise for tourists from all over the World as well. Hindu culture and religion greatly affect the lives of Bali community (differ from other areas in the Indonesian archipelago where the majority of the population is Muslim), which is indicated by offerings that can be found at Shrine, in offices, restaurants, hotels and many other places. Balinese community also have their own customary system of governance, called 'Bendesa Adat' who leads a village community and 'Kelian Adat' who leads a 'Banjar' (smaller part of a village) community. There are a wide selection of Bali Vacations Packages offered out there for those who want to visit the island.
Where Bali Located
The island of Bali lies 3.2 kilometers east of Java, and is approximately 8 degrees south of the equator. Bali and Java are separated by the Bali Strait. East to west, the island is approximately 153 km wide and spans approximately 112 km north to south; administratively it covers 5,780 km2 , or 5,577 km2, without Nusa Penida District, which comprises three small islands off the southeast coast of Bali.
The island is surrounded by coral reefs. Beaches in the south tend to have white sand while those in the north and west have black sand. Bali has no major waterways, although the Ho River is navigable by small sampan boats. Black sand beaches between Pasut and Klatingdukuh are being developed for tourism, but apart from the seaside temple of Tanah Lot, they are not yet used for significant tourism. Beach lovers could find those beaches in Bali vacations packages. (source : wikipedia).
Well-known Beaches in Bali
There are many beaches on the island of Bali that have their own characteristics as well as accommodations around them to fulfill the tourists expectations on their Bali vacation. Starting from the western part of the island of Bali, Medewi beach is a dream for surfers located in Jembrana Regency, with the lower bustle of tourists. Likewise with Balian beach in Tabanan Regency which is also quite famous among surfers.
Then Kuta beach, with many tourist facilities, bustle of bars, restaurants, shops and fancy accommodation that attracts beach lovers and nightlife enthusiast in Bali vacations packages. There are many tour service providers as well who will ready to take tourists around Bali. For surfing sports lovers, especially for less skilled surfers, Kuta is one of the best beaches available for this sport. Surfboard rental, surf shop and surfing course are available. Kuta is also known for its beautiful sunsets as well . For devotees of the sunset beauty, Kuta provides stunning colors to admire on most evenings. The nearby Legian Beach is very similar to Kuta providing a calmer atmosphere.
A little bit to the south you'll find Jimbaran beach, with its five-star hotel accommodations and luxury villas, which was once a quiet fishing village. Long white sand seashore and quite safe for swimming. One major Bali vacations packages attraction on this beach is on the beach grilled seafood restaurants, that allow visitors to enjoy the sunset while dining. Seminyak is another classy beach which is a bit busier than Jimbaran. Stretching for about 3 kilometers, the beach which is in the same line with Kuta is surrounded by luxury restaurants, hotels and shops.
Then Nusa Dua which can caters all types of vacationers in Bali with a wide selection of hotels. Slightly quieter than other Bali beaches but no shortage of restaurants, bars and shopping. Water sports such as banana boating, rolling donuts, flyfish, jet skis, and more are available at nearby Tanjung Benoa. Sanur Beach, which is another Bali tourism icon with its trademark that the opposite from Kuta beach. A fishing village with a calm atmosphere and suitable for those who want to enjoy a quiet holiday in Bali.
For those who like to dive and enjoy the beauty of the underwater world, Tulamben beach is a suitable spot to visit. Tulamben is in the eastern part of Bali, within Karangasem district. It has coral reefs beauty that are worth exploring. There are many operators that provide diving packages at Tulamben beach.
Lovina Beach, in Singaraja, northern Bali, is a tourist spot with calm waves and which famous for dolphin sightseeing tour. Utilize traditional boat known as jukung to see dolphins in their natural habitat is an amazing experience. There are a lot Bali vacations packages provider that offer dolphin sightseeing tour.
What are the most interesting things to see in Bali?
If the beauty of the beach is not enough to fulfill your holiday in Bali, visit some of the other interesting spots that Bali has. Kintamani presents the enchanting Mount and Lake Batur. With its cool atmosphere and away from the hustle and bustle of beaches, Kintamani is in great demand by connoisseurs of the natural beauty.
Ubud can be explored in just one day, but for more satisfying and able to enjoy the most of the tourist and cultural activities in Ubud, you need to stay a few days. It is considered as the cultural and art heart of the island. Famous for its art galleries, museums and dance performances. It is home to a rainforest inhabited by herds of wild monkeys, known as Ubud monkey forest. When it's time to buy souvenirs, there are many art shops in Ubud that sell the work of local craftsmen. There are a wide selection of accommodation available here, from fancy Bali villas to affordable guest houses.
No matter which Bali vacations packages you took, you will discover many interesting Temples on the journey. Enjoy the essence of Bali by spending a little time to exploring several of them. There are thousands temples on the island, scattered along the coastline and in mountainous areas. Tanah Lot is one of the famous temples, which was built on a rock off the coast in Tabanan Regency and has been be a tourism spot for decades. Its one of Dang Hyang Nirartha relics in 15th century. Besakih Temple is another spectacular temple, called the Mother Temple, which is located on the slopes of Mount Agung, the highest mountain on the island of Bali. It is the biggest Hindu Temple in Bali.
Each temple has its specific time for ceremony called 'piodalan', in a fixed time calculation according to the Balinese calendar. It won't be surprisingly if you will witness many religious ceremonies in Bali while on vacation.
What are the most interesting things to do in Bali?
White Water Rafting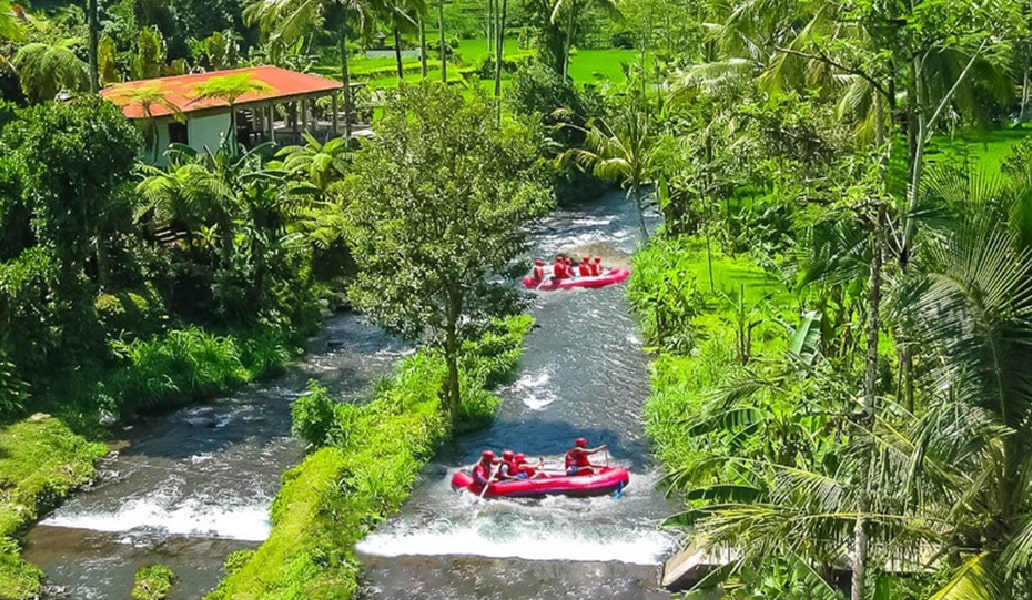 An outdoor activity that intrigues both the laid back and the adventure seekers. Riding and paddling on an inflatable raft, navigating through a rushing river, enjoying taking risks and finishing strong with your teamwork skills, rafting will give you the chance to appreciate nature from a different angle.
Bali has 3 main locations for white water rafting, they are: the Ayung River, the Telaga Waja River and the Melangit River. Each has its own pros and cons among visitors. With a few more advantages, let's take a closer look to just one particular river.
Enjoy the clear water stream of the river chutes down the valley, passing through some magnificent natural wonders of Bali, a lush green rain-forest, rice-fields, carved stone walls and splashing waterfalls. Experience the unusual viewing angle to Bali's spectacular panorama and its wildlife. Be amazed by how nature has blessed such harmony and beauty to the Land of the Gods. (source: https://www.indonesia.travel)
Hike on Mount Batur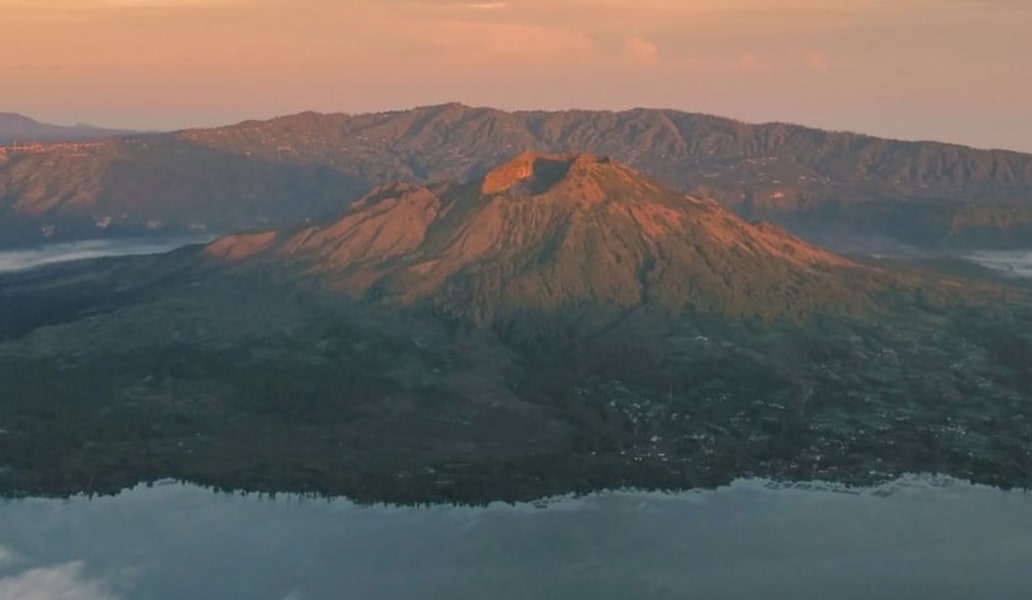 Its also known as Sunrise hike. The total distance of the Mount Batur hike is 7 kilometres out and back for the short route and 11 kilometres out and back on the longer route. The shorter route will take you anywhere between 45 minutes and 1 hour if you have a fast pace. The longer route will take you about double the time as you first trek a bit through the forest while on the shorter route you start already at a height of about 1250 meters at Pura Pasar Agung. The Mount Batur hike is done by many people, young and old. However, you do have to conquer incline and many uneven steps. The longer route has about 700 meters of inline over 11 kilometres of hiking. The shorter version has 500 meters of incline over 7 kilometres of hiking. I wouldn't say the Mount Batur hike is difficult, it's moderate but can be heavy at some points. It all depends on your fitness level and if you're used to hiking. However, the view with sunrise is well worth the climb! (source: https://digitaltravelcouple.com)
Try Paragliding The Sensation Of Flying Above Beaches And Cliffs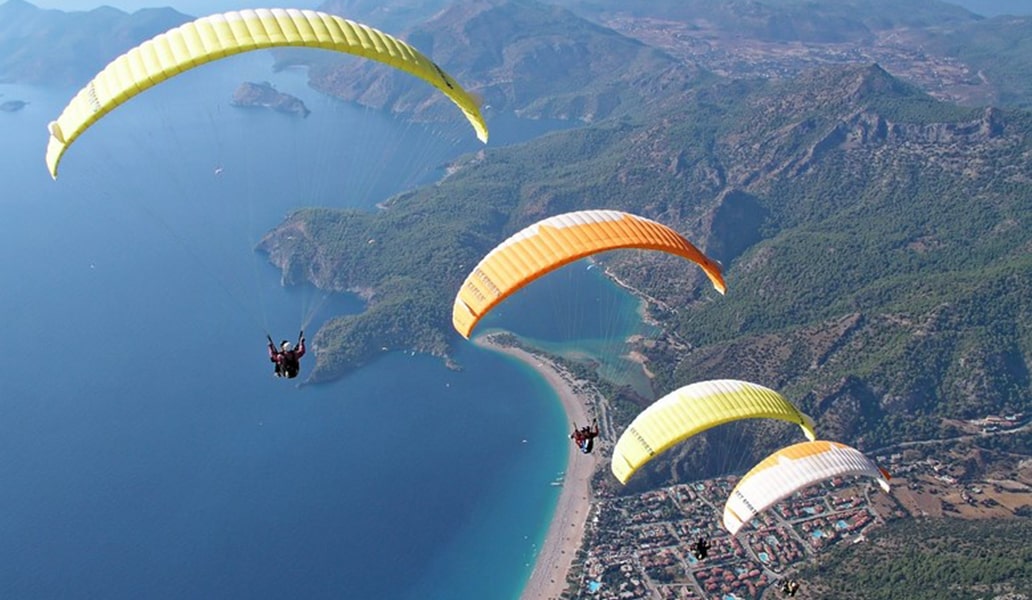 Paragliding in Bali is categorized as an extreme sport. This sport may not be commonly known, but it is popular among adventurers. Paragliding requires special equipment, you know. Because it provides an opportunity to fly, the aerodynamic system is designed in detail to keep it safe to do. In addition to requiring equipment in the form of parachutes, body armor is also needed such as helmets and knees. Not only the equipment that makes it possible to make someone able to fly, but also needed to recognize the direction of the wind and leg strength.
Paragliding can be played by all ages. Of course, with a record of excellent body vitality in order to minimize aviation health risks. If you don't have a license to fly alone, you can be accompanied by an instructor or an expert. Interested in an adrenaline-like holiday activity such as Paragliding while in Bali?
Paragliding in Bali can be found in several spots or locations. Namely at Pandawa Beach, Tanjung Benoa, Bukit Asah, Nyang-nyang Beach, Uluwatu, Bukit Riug, Timbis Beach, and Gunung Payung Beach. There are also locations other than those mentioned. (source: https://visitbali.id)
Those interesting activities above could be included in vacation packages Bali all inclusive. Lot of provider can offer such packages. Consider to use Bali car rental with driver service for your transportation while in Bali.