The Best Bali All Inclusive Resorts – Behold Bali, a tropical paradise with sandy beaches, crystalline waters, and verdant jungle vistas, beckons travelers to unwind and indulge in an all-inclusive resort vacation. What could be more restful than a holiday where every concern is handled on your behalf?
We have meticulously compiled a selection of the best Bali all inclusive resorts for you to peruse, ensuring that you can luxuriate and revel in your vacation without a care or worry. From welcoming family-friendly accommodations to lavish and sumptuous retreats, our curated list has something to offer every discerning traveler.
Why hesitate? Waste no time and book a stay at one of the best Bali all inclusive resorts, and relish in the ultimate relaxation experience!
Check also: Bali Hotels
What to Expect From Bali All Inclusive Resorts?
As someone who's traveled to Bali many times, I can say with certainty that one of the best ways to enjoy all the island has to offer is by staying at Bali all inclusive resorts. From my experience, here's what you can expect from  Bali all inclusive resorts:
First and foremost, you can expect gorgeous accommodations. Bali all-inclusive resorts are typically located right on the beach, so you can wake up to stunning ocean views every morning. The rooms are usually large and luxurious, outfitted with amenities like private pools, Jacuzzis, and butler service.
Another thing you can expect from Bali all inclusive resorts is top-notch service. The staff at these resorts go above and beyond to make sure you have a wonderful stay. They're always happy to help with anything you need, whether it's booking a tour or recommending a great restaurant.
Of course, one of the best things about staying at  Bali all inclusive resorts is having all your meals and drinks included in the price. There are typically several restaurants to choose from, so you'll never get bored of the food. And, the drinks are flowing 24/7, so you can enjoy as many cocktails by the pool as you like!
If you're looking for a relaxed and hassle-free vacation, then Bali all inclusive resorts is the perfect choice. You'll be treated like royalty and have everything you need right at your fingertips. Trust me, it's an experience you won't soon forget!
Alila Manggis: A Relaxing haven by the Sea
The Ideal Bali All-Inclusive Resort for the Perfect Getaway
Are you in search of the ultimate Bali all inclusive resorts? Alila Manggis is one of them! Located on the breathtaking eastern coast of Bali, Alila Manggis is the ultimate destination to unwind and find peace. Offering a stunning view of the ocean, it is the perfect place to rejuvenate.
With its exceptional setting, Alila Manggis offers a plethora of recreational activities and amenities to make your stay worthwhile. You can choose from three luxurious swimming pools, a well-equipped fitness center, and a tennis court. If you're feeling adventurous, the resort can even arrange guided tours and bike rentals for you to explore the area.
When it comes to dining, Alila Manggis caters to every palate with its exceptional on-site restaurant serving fresh and delectable local cuisine. If you're in the mood for some light snacks and cocktails, head to the poolside bar to indulge in some exotic flavors and refreshing drinks.
Whether you're planning a romantic escape, a family vacation, or a solo trip, Alila Manggis has got you covered with its impeccable accommodations. Choose from the 1 King Bed room or the 2 Twin Beds room, both available at IDR2,230,500. If you're looking for a more luxurious experience, the 2 Twin Beds Deluxe is available at IDR2,602,250.
Experience the epitome of a relaxing Bali all-inclusive vacation at Alila Manggis. Book your stay now and get ready to be pampered like never before!
The Elysian: Luxury Accommodations and beautiful Views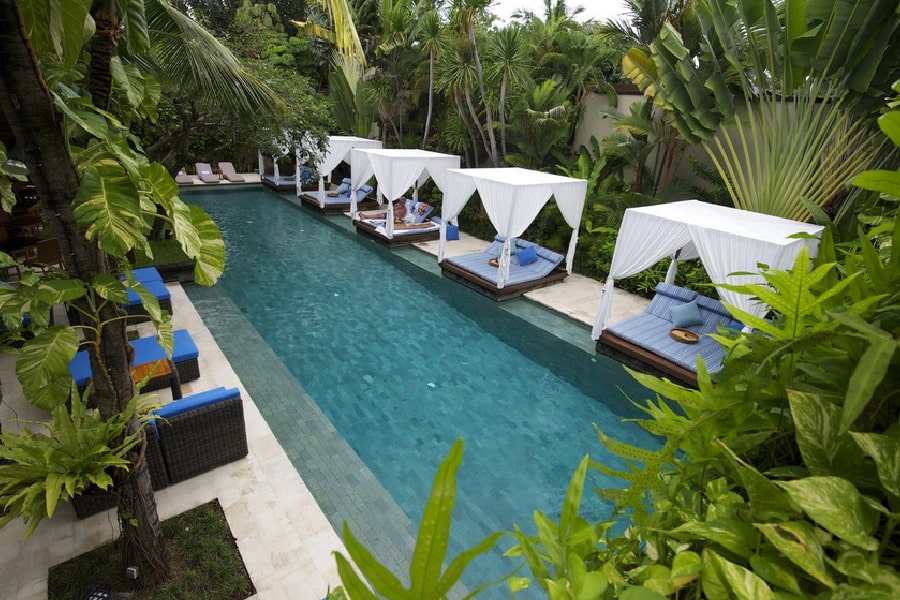 The Elysian is a luxurious and exquisite resort that boasts of stunning accommodations and awe-inspiring views, making it a top choice for travelers seeking comfort and luxury in Bali.
This resort provides a plethora of diverse accommodations, ranging from spacious suites to private villas that cater to the unique needs of every traveler. Moreover, the resort's location is strategically convenient, facilitating easy exploration of the picturesque sights that Bali has to offer.
The views from the Elysian are beyond words, captivating and breathtaking, making every moment unforgettable. Whether you are lounging by the pool or having a romantic dinner overlooking the vast ocean, the natural beauty of this place is simply spectacular.
For a vacation that oozes luxury and relaxation, the Elysian is the perfect getaway destination. With its luxurious accommodations and picturesque views, an unforgettable experience awaits you at this unique resort. Book now and enjoy rates starting from IDR 4,865,412 at the Elysian Boutique Villa Hotel.
The Laguna: Sophisticated Rejuvenation for Couples and Families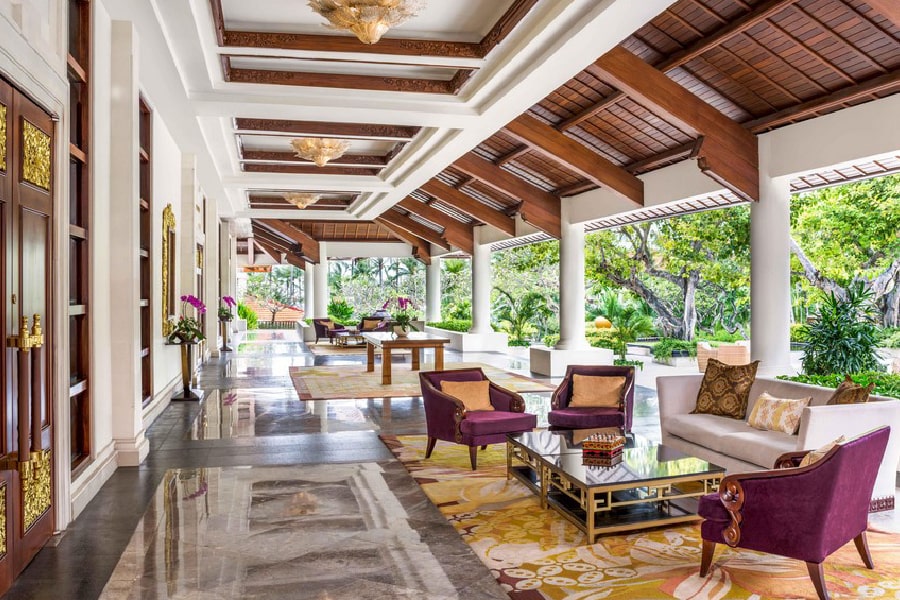 Located on the sequestered shores of Nusa Dua, The Laguna is a sumptuous comprehensive resort that provides a respite from the commotion and clamor of daily existence. This refined sanctuary is a matchless haven for pairs and clans who are in search of restorative and tranquil repose amidst a resplendent milieu.
The Laguna furnishes everything that you may need for a serene and unforgettable sojourn. The resort features capacious lodgings, exceptional gastronomy, a mollifying spa, and a plethora of activities that are bound to enthrall you. With such an array of amenities on offer, it is not surprising that The Laguna is one of the most sought-after comprehensive resorts in Bali.
If you crave a place to unwind, The Laguna is the quintessential preference. The serene surroundings and top-tier amenities provide the idyllic backdrop for an absolutely restful experience. Whether you are luxuriating in the sunshine by the pool or indulging in pampering at the spa, you will feel ensconced in a world of your own at The Laguna.
If you yearn for some more excitement, there are ample activities to do at The Laguna as well. The resort proffers a gamut of activities, ranging from tennis and golf to cooking lessons and Balinese dance classes. Furthermore, there is a kids club so your youngsters can revel in their own fun while you relish some solitary moments.
Irrespective of your vacation style, The Laguna caters to everyone's preferences. Whether you aspire to repose or to explore, you will discover everything that you need for an unforgettable stay at this opulent comprehensive resort. The Laguna room rates commence from IDR 3,600,000.
Ayana Resort: Ideal for Honeymooners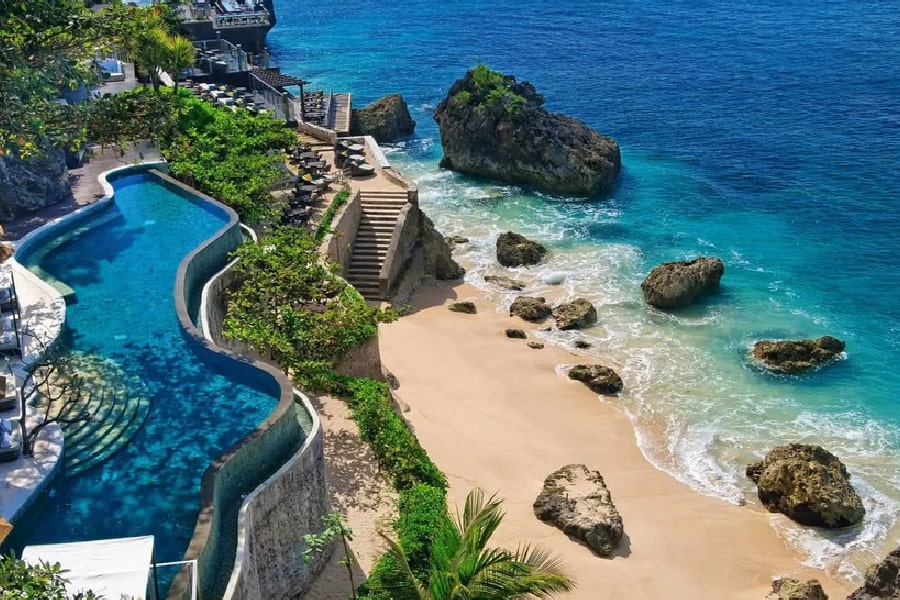 Have you ever traversed the isle of Bali? If not, make sure to include Ayana Resort in your list of places to visit! Nestled on a sprawling 90 hectares of land in Jimbaran, Ayana Resort boasts an awe-inspiring cliff-top location that overlooks the Indian Ocean. The resort presents a diverse range of activities and amenities, which make it the ultimate sanctuary for both lovebirds and families alike.
One of the most notable features of Ayana Resort is the alluring cliff-top infinity pool. Boasting a panoramic view of the ocean, it is no wonder this is one of the resort's most sought-after spots! Other amenities available are a kids club, a spa, and an assortment of dining establishments and watering holes.
If you are in the pursuit of a romantic escape, Ayana Resort is the perfect destination for you. With its secluded location and sumptuous amenities, Ayana Resort is the embodiment of romance, making it the ultimate haven for honeymooners. Book a stay in one of the villas for an unparalleled level of privacy and relaxation. While away your days lounging by the pool, getting pampered at the spa, or exploring the nearby beaches.
If you are in search of a fun-filled vacation, Ayana Resort is an excellent choice. The resort caters to all ages, making it the ideal destination for a family vacation. The young ones will have a blast at the kids club, where they can meet new friends and engage in an array of activities. A babysitting service is also available, so you can enjoy quality time with your significant other.
Whether you are yearning for a romantic retreat or a family getaway, Ayana Resort is the ultimate sanctuary for you. With its picturesque location, lavish amenities, and diverse range of activities, Ayana Resort is sure to leave a lasting impression on your vacation. Room rates at Ayana Resort start from IDR 4.158.541.
Samabe Bali Suites and Villas: Unparalleled Beachfront Luxury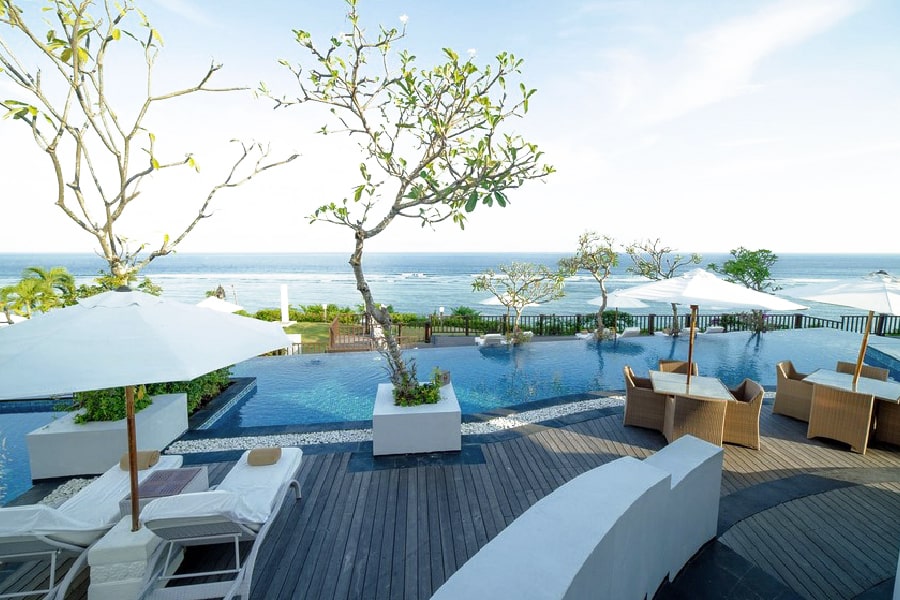 Greetings and salutations to the prestigious domain of Samabe Bali Suites and Villas, where the apex of beachfront extravagance is realized. Our isolated haven is perched atop a precipice overseeing the picturesque Indian Ocean, rendering breathtaking panoramas at every turn.
Each of our capacious suites and villas is equipped with a personal, private swimming pool, and our five-star retreat's conscientious staff is available 24/7 to cater to your every whim. From opulent in-room dining to in-house wellness treatments and a plethora of recreational amenities, we possess all the essential elements to transform your sojourn into an indelible memory.
What distinguishes us from the rest of the Bali all inclusive resorts is our unparalleled commitment to providing guests with the highest level of service, facilities, and comfort. We aspire to make you feel like nobility the moment you set foot on our property, and our team will surpass all expectations to ensure that this comes to fruition.
Should you seek an unrivaled, sumptuous beachfront refuge, there is no superior choice than Samabe Bali Suites and Villas. Reserve your stay with us today, and commence planning your idyllic escape. Samabe Bali Suites and Villas room rates commence at IDR 4.591.578.
Samabe Bali Suites and Villas Location:

Bulgari Resort: Spectacular Private Beachfront Villas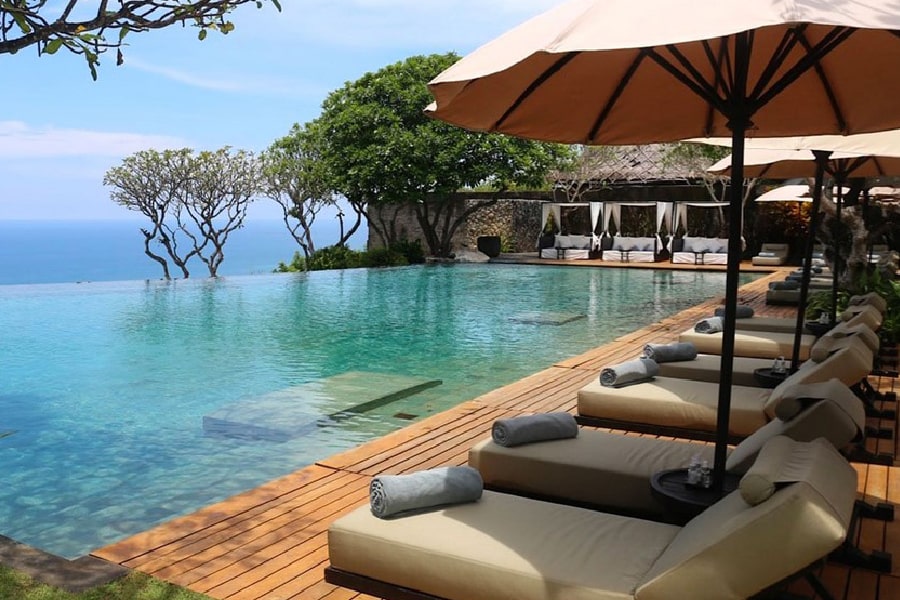 Tucked away in an idyllic enclave of Bali, the Bulgari Resort is a palatial haven that boasts a secluded stretch of private beachfront. The resort's villas are nothing short of awe-inspiring, each flaunting their own individualistic private pools and exclusive access to the beach. Indulge in the world-renowned spa treatments and relish the fine dining options, the Bulgari Resort unfailingly caters to your every desire, and ensures a tranquil and opulent getaway.
The Bulgari Resort's beachfront is truly one of a kind. Its ivory sand and unblemished turquoise waters are stunningly arresting, and the villas' location make it seem like a personal paradise. Whether you want to soak up some sun rays or immerse yourself in your own secluded pool, the beach at the Bulgari Resort is your ideal destination.
Should you seek an unrivaled escape, the Bulgari Resort provides the ultimate sanctuary. With its spectacular villas, private beach, and world-class spa, the Bulgari Resort promises an exquisite and serene sojourn. Take advantage of the Bulgari Resort's offerings, with room rates starting from IDR 33,880,000.
Kayumanis Ubud Private Villas: The Ultimate Peace and Privacy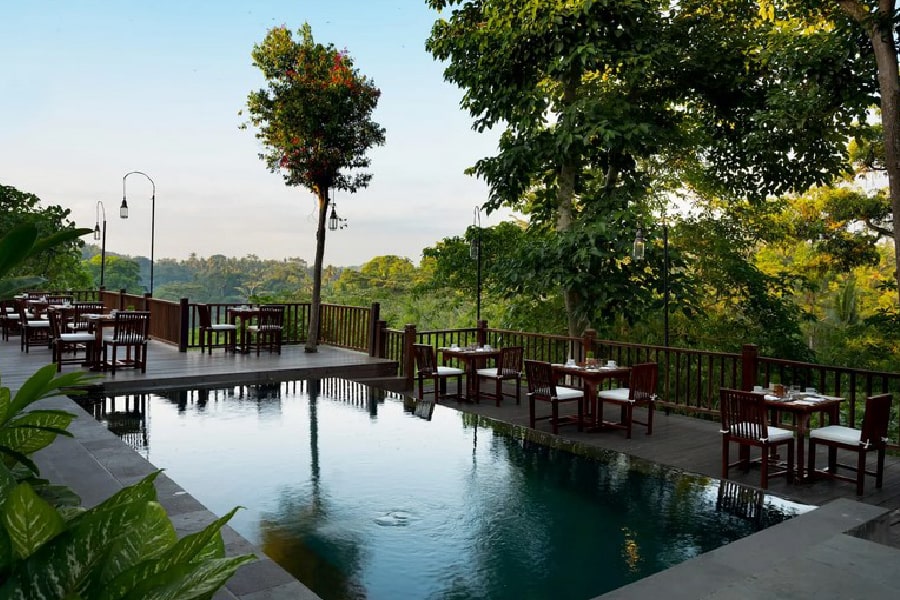 Need a serene and secluded getaway? Kayumanis Ubud Private Villas could be a perfect choice. These villas are located amidst the luscious rice paddies and dense jungle of Ubud, offering the ultimate in peace and seclusion.
The villas themselves are elegant and spacious, equipped with all the necessary amenities for a comfortable stay. Each villa also boasts its own private pool, with additional communal spaces including a restaurant, bar, spa, and fitness center.
With access to all the resort's activities and amenities, you won't need to leave the property to have an unforgettable vacation. From lounging poolside to indulging in spa treatments, or even venturing out to explore the nearby jungle and rice paddies, Kayumanis Ubud has something for everyone.
If a private and luxurious escape is what you seek, then Kayumanis Ubud is the perfect choice. Nestled in a tranquil setting, it offers respite from the hustle and bustle of daily life. Rates for Kayumanis Ubud Private Villas start at IDR 12,030,524.
Villa Seminyak Estates and Spa: An Exquisite and Elegant Hideaway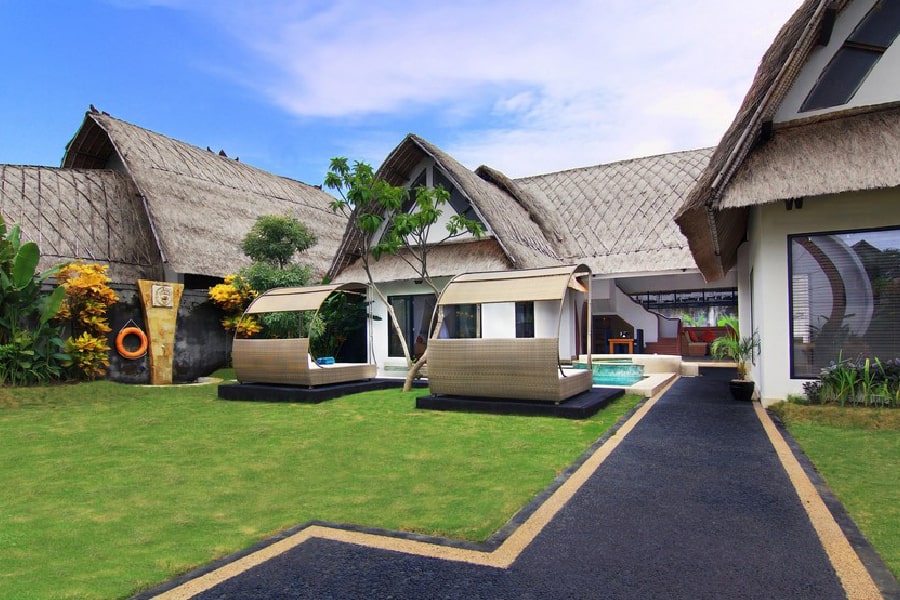 Villa Seminyak Estates and Spa, an exquisite and elegant sanctuary situated in the heart of Seminyak, one of Bali's most prominent and favored tourist destinations, is a perfect escape from the chaotic and frenzied routines of daily life. This divine retreat is nestled only a short stroll away from the beach, shops, and restaurants, making it an ideal location to indulge in some much-needed respite.
As you step into the villa, you'll be awed by its stunning and picturesque ambiance. It boasts of a breathtaking infinity pool that overlooks the verdant and lush rice paddies, adding to the villa's allure. The villa is spacious and boasts of five tastefully designed bedrooms, each with its own opulent en-suite bathroom, perfect for providing utmost privacy and comfort to all guests. You'll also have access to a fully equipped kitchen, allowing you to whip up some of your favorite dishes to your heart's content.
However, what sets Villa Seminyak Estates and Spa apart from others is its impeccable and unparalleled service. The staff here is incredibly affable and hospitable, ensuring that you have a delightful and seamless stay. They strive to make your experience as perfect as possible by catering to your every need, from booking tours and activities to arranging transportation.
The rates for Villa Seminyak Estates and Spa begin at IDR 1,103,327, a price worth paying for an unforgettable and luxurious experience. If you're in search of a tranquil and indulgent getaway, look no further than Villa Seminyak Estates and Spa, a retreat that is sure to exceed your expectations.
Enjoy a Stress-Free Vacation With Best Bali All Inclusive Resorts
When crafting a leisurely getaway, the last thing one desires is to expend countless hours perusing possible lodgings. This is where Bali all inclusive resorts come in handy, as they are a popular vacation option that eradicates budgetary concerns by bundling everything in the price.
Bali is a distinguished tourist destination renowned for good reason. With its picturesque beaches, verdant tropical forests, and lively culture, this Indonesian island caters to everyone. And in the realm of all-inclusive resorts, Bali truly does not disappoint.
Regardless of whether you seek a lavish 5-star resort or a more economical alternative, numerous splendid all-inclusive resorts are available. To assist you in narrowing down your choices, we have curated a list of our premier picks for the finest all-inclusive resorts in Bali above.
No matter what sort of all-inclusive resort you are seeking, Bali boasts an abundance of splendid options to choose from. Why not commence planning your stress-free vacation today?
Check also: Cheap hotels in Bali for Backpackers