Denpasar is the capital city of Bali and is located north of Nusa Dua. The city is not known as a region that has a significant tourist attraction when visiting Bali. As the capital city, there are many Denpasar hotels to choose from for all budgets. For cheap tours, Bali hotels in Denpasar are the right place to stay because there are many cheap inns and hotels that can be found. The service you will get is good, but the facilities may be very lacking, in line with the price offered. For the more discerning traveler, there are luxury places you can find that provide star hotel facilities, but these are mostly occupied by business people.
Scarcity of beaches or a distinct tropical environment limits Denpasar Hotels in what they can provide for tourists. Not having beautiful blue oceans and lush rain forests as a view means that all inns here will only be able to offer city views. Because the Balinese lifestyle is very different and the value of exploration is high, tourism activities in Denpasar are limited and then the number of lodgings can also be limited. You won't find private villas with entrances to secluded beaches or have the ability to exit Denpasar accommodation onto dazzling white beaches. If you choose to stay here at one of the many luxurious Denpasar Hotels and you want to find out all that Bali has, you will have to commute from lodging to the tourist spots that you choose to visit.
All top rated hotels in Denpasar city you can go anywhere you want, just book it at the reception desk and they will be happy to arrange everything for you, from Bali car rental with driver and your other needs as well.
Well known Denpasar Hotels
Aston Denpasar Hotel & Convention Center
Aston Denpasar Hotel & Convention Center is located in the business center of Denpasar, a 45-minute drive from I Gusti Ngurah Rai International Airport. Enjoy historical and cultural city icons which are only 30 minutes from the hotel: Bali Art Center, Bajra Sandhi Monument, Pemecutan Palace, Jagatnatha Temple, Fingerprint Museum, Kumbasari Art Market, and Puputan Square.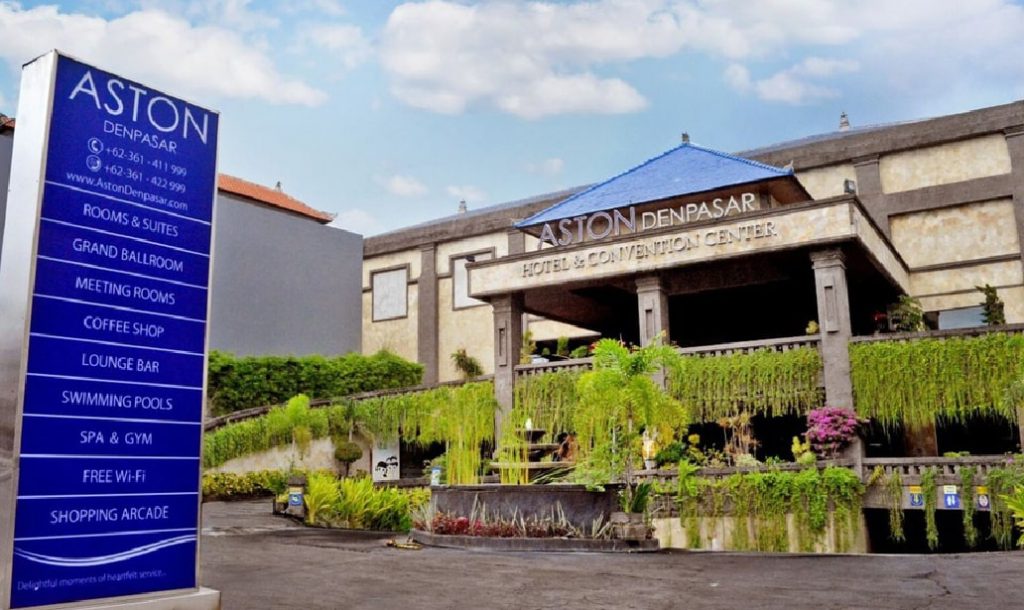 The largest ballroom in town, our hotel is the perfect choice for weddings, meetings and gatherings with a capacity from 20 to 2,000 people. With a roof height of up to 8 meters, exclusive lift access and VIP entry access for large buses or private cars, every event will be special. There are 12 additional meeting rooms, an area for outdoor events, a pool terrace, and an Exhibition Hall for your various business or social events.
The hotel is certified as "Halal" by the Indonesian Ulema Council (MUI) which ensures that all food and beverage preparations, from the kitchen, to the preparation of the serving, our food supply chain and menus have been rigorously checked to meet Muslim cultural standards. The hotel has also received the Salam Standard label, which is aimed at Muslim Guests, which makes it easier for them to find accommodation that meets the halal criteria according to Islamic teachings.
Alam Puri Villa and Spa
Alam Puri Villa and Spa is located in the middle of Bali south of Ubud and about three miles from Bali Chook Park. Kuta is eighteen miles away and Ngurah Rai Airport is about 37 miles from the establishment. The lodge has its own private art museum. What is interesting is that the natural themes and works of art exist throughout the lodge and its surroundings. There are rice valleys and green environment around it. Visitors can benefit from the website's freshwater swimming pool and the pool bar's range of professional spa treatments outside the restaurant or picnic / barbecue room library. This cottage has 13 villas. Each room has a private plunge pool and a balcony overlooking the rice fields.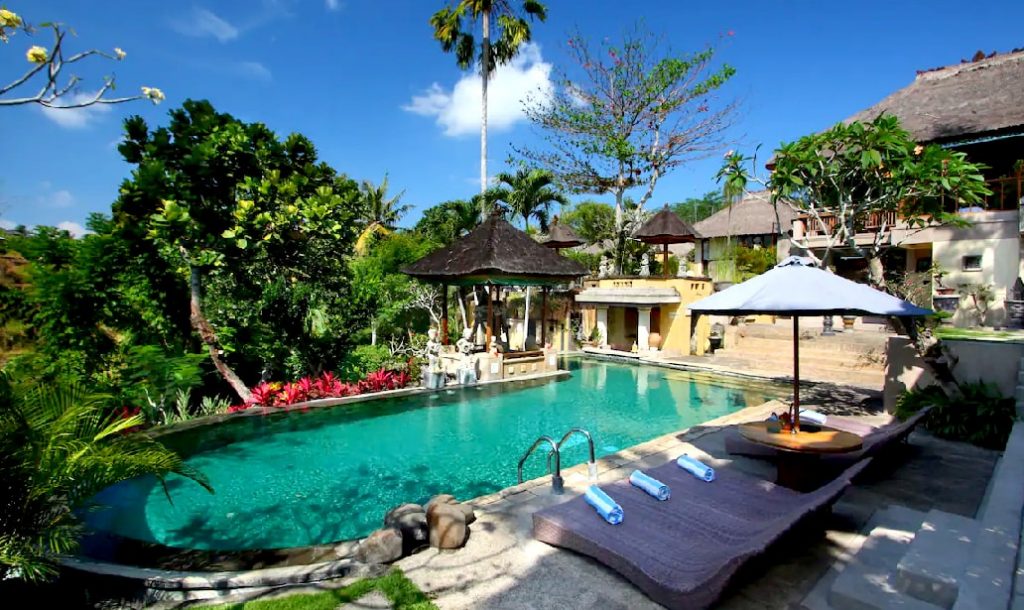 Nikki Hotel One Of The Well Known Denpasar Hotels
Strategically located in the middle of Denpasar city, this hotel offers an easy access to various interesting locations in this city. Getting to Kuta beach only takes 45 minutes driving, while Ngurah Rai International Airport is about 1 hour driving from this hotel.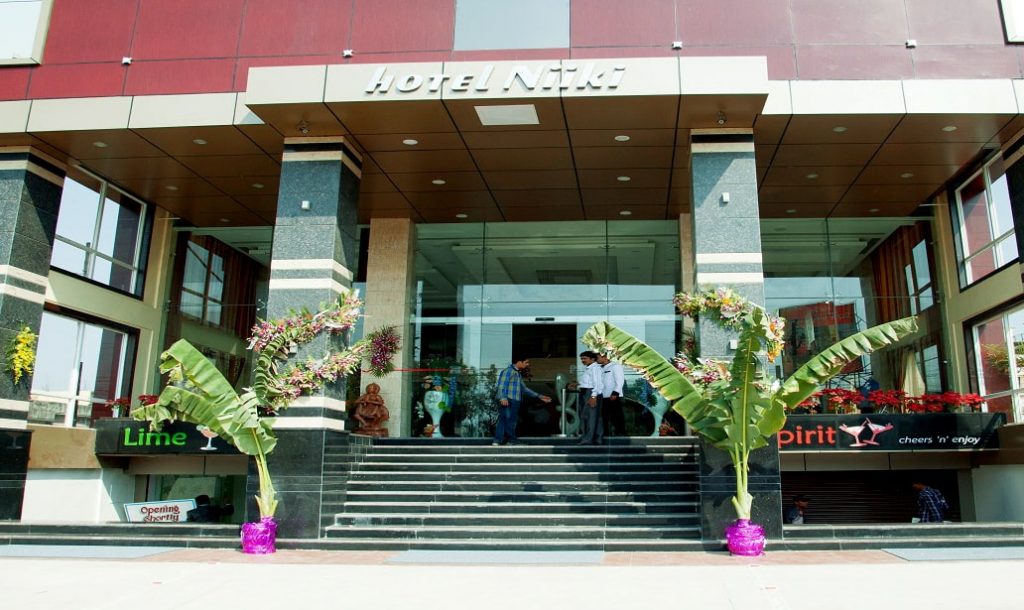 Nikki Hotel Bali is a hotel located in Denpasar, offering a comfortable and convenient accommodation, accompanied with modern facilities and excellent services. The hotel comes with various facilities such as taxi service, private parking, prayer room, business center, and spacious meeting rooms.
The hotel offers several types of Superior, Standard, and Junior Suite rooms, and are decorated with modern designs to provide a comfortable stay. Each room is equipped with modern facilities such as air conditioning, coffee and tea making facilities, satellite TV, Wi-Fi access, mini-bar, IDD telephone, while the en-suite bathroom comes with shower. Laundry service is available upon request.
Harris Hotel and Conventions Denpasar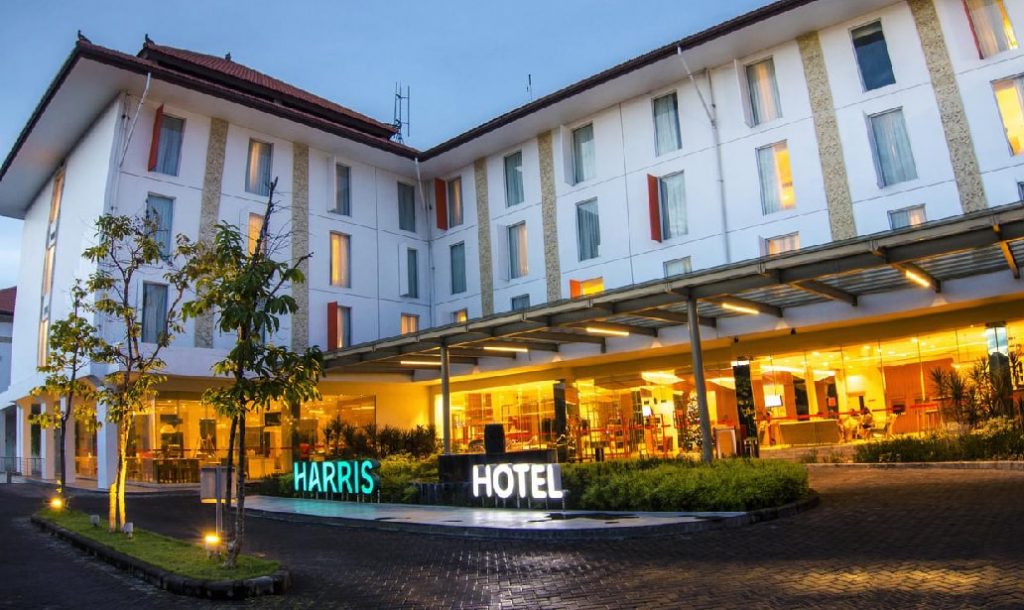 Located in the center of Denpasar City and equipped with adequate facilities, Harris Hotel and Conventions Denpasar Bali is ideal for business people. Comfortable rooms and an exclusive children's play area make the accommodation also suitable for family vacations. Harris Hotel and Conventions Denpasar Bali has 87 rooms. In each unit, guests can enjoy facilities such as a 32 inch LCD TV and a day bed sofa. There is also an en suite bathroom with toiletries and a hair dryer. Harris Cafe can accommodate up to 100 people. The cafe, which serves local and western menus, opens from 06.00 AM to 11.00 PM. There is also a Mezzanie Cafe with a capacity of up to 50 people. This cafe has dual concepts that are unique, namely coffee shop and angkringan. Around the cafe area, you can enjoy beautiful mural art. There are also 6 meeting rooms, 2 board rooms, and 1 ballroom which has a capacity of up to 800 people. Facilities in the meeting room include flip charts, screen & LCD projectors, sound system, wireless and microphone. It is approximately a 40-minute drive from Ngurah Rai International Airport to HARRIS Hotel and Conventions. You can reach Lumintang City Park in about 5 minutes. Ecotourism Subak Sembung, Peguyangan, can be reached by a 10-minute drive.
Activities in Denpasar
Denpasar Traditional Market is the economic center of the city which is located on Jalan Gajah Mada which is the main highway and has developed into a shopping center in Bali. This conventional market is close to the village temple which is one of the three biggest temples in Denpasar. Initially it was not as big as it is now because it has been modified according to the needs and progress of the city. This market cannot be separated from the existence of a market across the Badung river known as the Kumbasari Market because the indigenous people will feel very incomplete to buy before coming to the Kumbasari market, especially for Balinese people who want to buy things for ceremonies and offerings.
Kumbasari Market
Kumbasari Market is a market that promotes costume and clothing items at relatively cheaper prices compared to clothing items purchased at outlets on Jalan Gajah Mada, which are mostly owned by Chinese-speaking clans. Previously, Kumbasari Market was called Peken Payuk (pot market), which put forward goods from pottery / jars such as pot, pengedangan, cubek (plate from the ground), paso (bucket from land), caratan (water jug from land), jeding ( barrels from land), pengantokan (stirrer from land), coblong (cup from land), kekeb (rice cover) and others. These are kitchen utensils as well as ceremonial items. Because this market is the most popular as a place for promotion of payuk / pot, the Kumbasari Market was now known as Peken Payuk (Peken is a Balinese means market). But now it has been promoting cloth or art objects for tourists and then it has become one of the tourist sites in Denpasar City.
Jagatnatha Temple
Pura Agung Jagatnatha is the largest temple in Denpasar. The location is on Jalan Mayor Wisnu and is very strategic, which is right east of Puputan Badung Square and next to the Bali Museum. This temple was built facing west towards Mount Agung. Mount Agung is believed to be the palace of the Gods. Pura Agung Jagatnatha was built as a place of worship for Sang Hyang Widhi Wasa.
Not only as a place of worship, this great temple is also visited by tourists because of its beauty and uniqueness. Its location is on the tourist route so it is very strategic and never empty of visitors, both who come to worship or just to enjoy the beauty of the temple.
Anyone can come to worship because this temple is open 24 hours a day. This includes the arrival of tourists. However, there are written and unwritten rules that must be obeyed. You still have to respect and not interfere with the continuity of the Hindus who are worshiping in this temple.
Bali Museum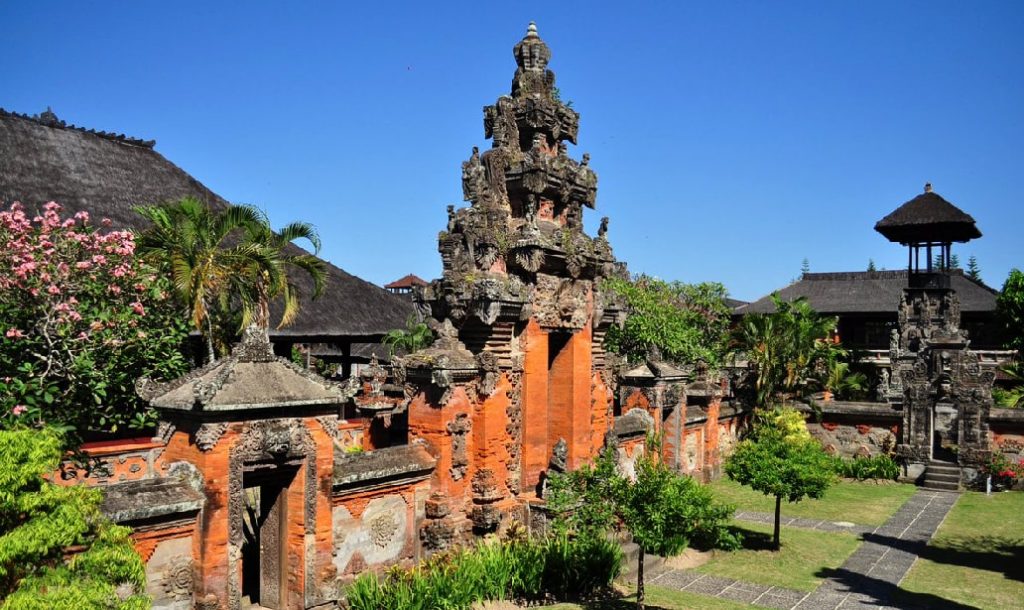 Bali Museum is strategically positioned in Main Wisnu Road in Denpasar Bali and it's simple to seek out it as a result of location within the city center. Within the north facet there's the wonderful temple of Jagatnatha, in the meantime in entrance of it the Puputan Badung (Badung Courtyard) and the well known 4 face statue (Catur Muka Statue) is positioned.

Only the best Denpasar inns have a website so you can book online and as the city is not a favorite vacation spot for tourists, it is possible to search for lodging all year round without having to book in advance. One time you may find lodging that is completely booked is that if there is a large meeting being held. If you intend to spend a night or two here and want to stay in a luxurious place to stay then it is definitely advisable to book early in advance. Backpackers and budget travelers don't need to worry because there is always a room at a Hotel somewhere in Denpasar.
Reserving into one of many prime Denpasar Hotels, all of your rooms can be air conditioned and all room facilities working, but when going for a less expensive lodge it's best to examine the room earlier than paying for it to ensure the air-con works and the bathrooms are usable. The opposite factor that it's essential make sure that of is if you wish to have a hot tub or bathe, ensure that these amenities can be found. Coming from a developed nation we robotically assume that hot water is obtainable, not so in Bali or anyplace in Indonesia. You will have to "order" the tank to be switched on a couple of hours earlier than you need to take a shower at a number of the extra cost.
When traveling around Denpasar it is very important to be very careful with important documents and your money, this is not a city inhabited only by friendly Balinese people, but filled with different people from all countries. Bali is not the richest country by any means and is more clearly seen in a metropolitan city. Most cities in Indonesia are experiencing economic difficulties and you have to be very careful. As a tourist, you will stand out from the crowd and can become a target for pickpockets and thieves. Carry all your important documents, cards, and extra cash on a cash belt, hidden under your shirt. If you get robbed then basically the most they will get is your purse and no matter what dime you have in your pocket, never pull out a wad of cash while out in public. Tourists might spend a week's vacation money while staying at one of the many unique Denpasar hotels, which will definitely count as one year's salary for many Balinese.
Check also: Hotels In Legian Bali